Title:
IASP Virtual takes shape
First image: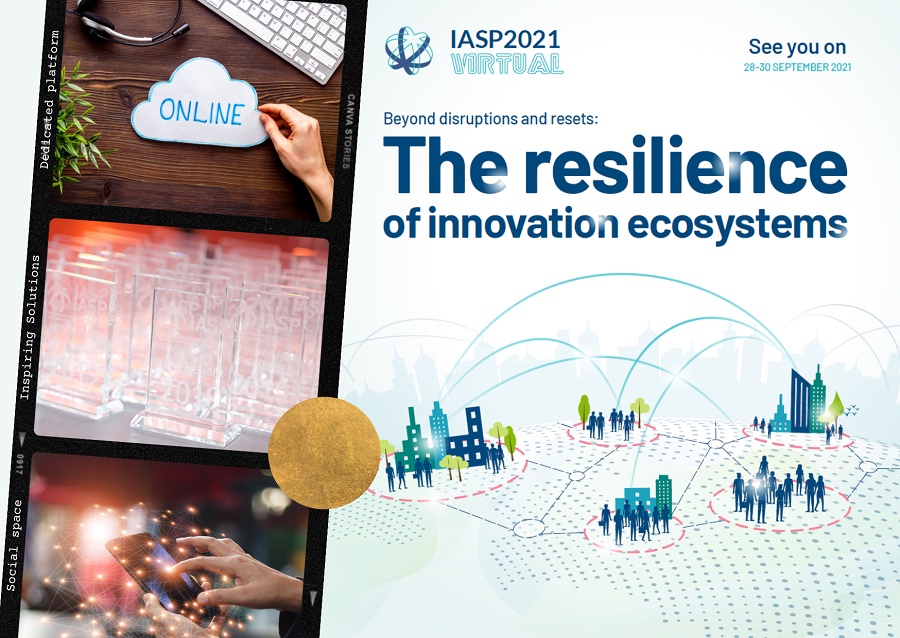 Text:
At this year's IASP virtual World Conference, we will be exploring the theme "Beyond disruptions and resets: the resilience of innovation ecosystems" in a format that blends external speakers with high-level practitioner panels. It will be a great opportunity for everyone to hear insights from global experts, debate their practical implications for science parks and areas of innovation, enjoy pre- and post-programme networking activities, and share experiences with peers on an international level. Stay tuned as the full programme will soon be announced!
Condensed learning in global prime time
We are preparing a concise daily programme, with 3 hours of content during global prime time (14h-17h CEST), allowing as many participants as possible from different time zones around the world to join us. Join us at IASP Virtual 2021 to get a truly global perspective on all the latest trends in science parks and areas of innovation!
In addition to knowledge sharing, you'll have the opportunity to say hello and chat to each other, with parallel activities for early and late birds. Greet old friends and make new ones in our exclusive social space, and the platform will remain open after the official conference programme concludes for you to schedule meetings and video calls.
We'll also be revealing the winners of our 2021 Inspiring Solutions programme in a special live ceremony, and will hear updates from our colleagues at Cartuja Science Park in Seville, Spain, who will be our hosts for next year's in person IASP World Conference!
Free registration this year
Registration is totally free this year! We invite you to pass on this opportunity to your wider innovation community, your team and any key contacts who could benefit from our annual gathering to gain knowledge about our industry, and learn more about the contributions science parks and areas of innovation make to their communities, cities and regions in times of crisis.
Sponsorship opportunities
We also have some great sponsorship opportunities to put you in the spotlight on the world stage - contact us at partnerships@iasp.ws to learn more and explore all the options.
Keep an eye on the website https://www.iasp2021virtual.com/ as we share more programme details, and book your free place today!