Title:
Iconic building selected for Health Campus Limburg
First image: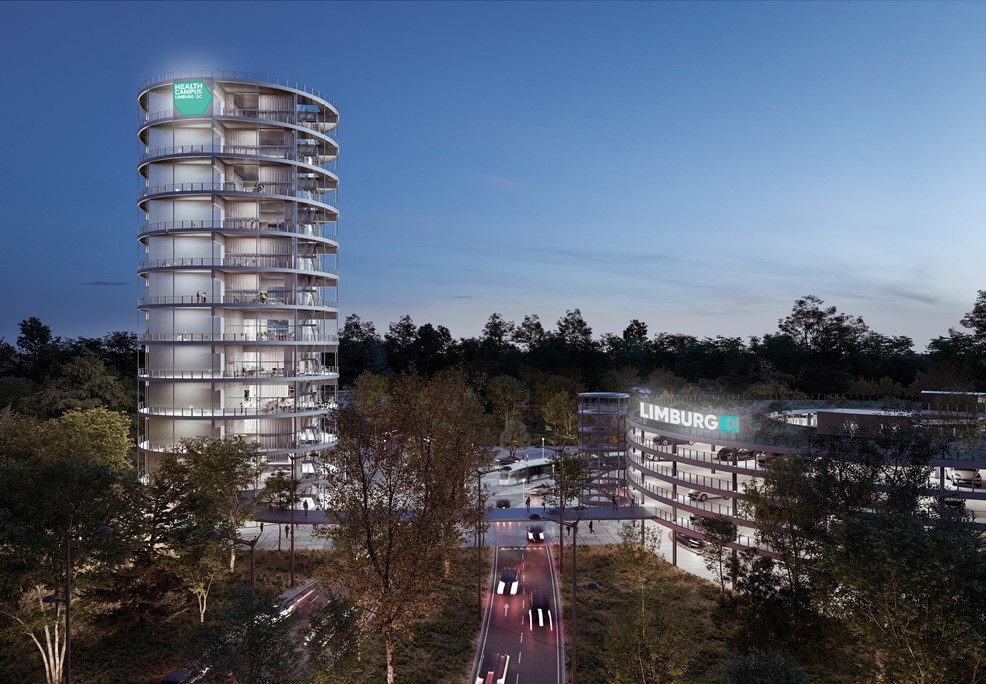 Text:
Health Campus Limburg DC, a new IASP member from Belgium, has selected the design for its new gatehouse building which will serve as an open innovation centre for healthcare.
After an open call, which regional development company POM Limburg organised together with the Flemish Master Builder, a consortium of architect agency Studio Muoto from Paris (France), TAB architects from Ghent (Belgium) and OTO landscape architecture from Rotterdam (The Netherlands) came out on top in the selection process. The Health Campus gatehouse will be a striking cylindrical tower with an open feel, serving as an open innovation centre for healthcare.
The campus grounds have been in transition for some time, with the master plan that POM Limburg developed with various partners over the past few years now taking form. Tom Vandeput, Deputy for the Economy and Chairman of POM Limburg, said: "The gatehouse is part of the Health Campus on Limburg DC, but above all it is the face of the campus to the outside world. It should therefore be a literal reflection of the site's sky-high ambitions, and the winning design absolutely succeeded in that."
The entire gatehouse consists of a pair of two round towers. Next to the actual gatehouse will be a parking building with some 500 spaces, as well as bicycle parking, small shops and a courtyard garden. The gatehouse itself will house an open innovation centre for healthcare, and shared facilities for campus residents, including offices, meeting rooms and a restaurant.
Health Campus manager Roeland Buckinx commented: "This gatehouse represents an important step in our soaring ambitions. It will function as a hub around which companies, knowledge institutions and healthcare actors work together to improve our care, from innovative idea to implementation."
Hasselt University is already taking a central role in the open innovation centre for healthcare. Bernard Vanheusden, UHasselt Vice-Chancellor, said: "In the gatehouse, we are building on our research linked to our master's programmes in healthcare. This place offers an opportunity to bring together people from very diverse disciplines to address the challenges in the healthcare sector as efficiently as possible. As a civic university committed to using its knowledge to make society smarter, more agile and better, we are especially looking forward to the many collaborations with the healthcare sector that this gatehouse will enable."