Title:
International biotech company to build pilot plant at Biopark
First image: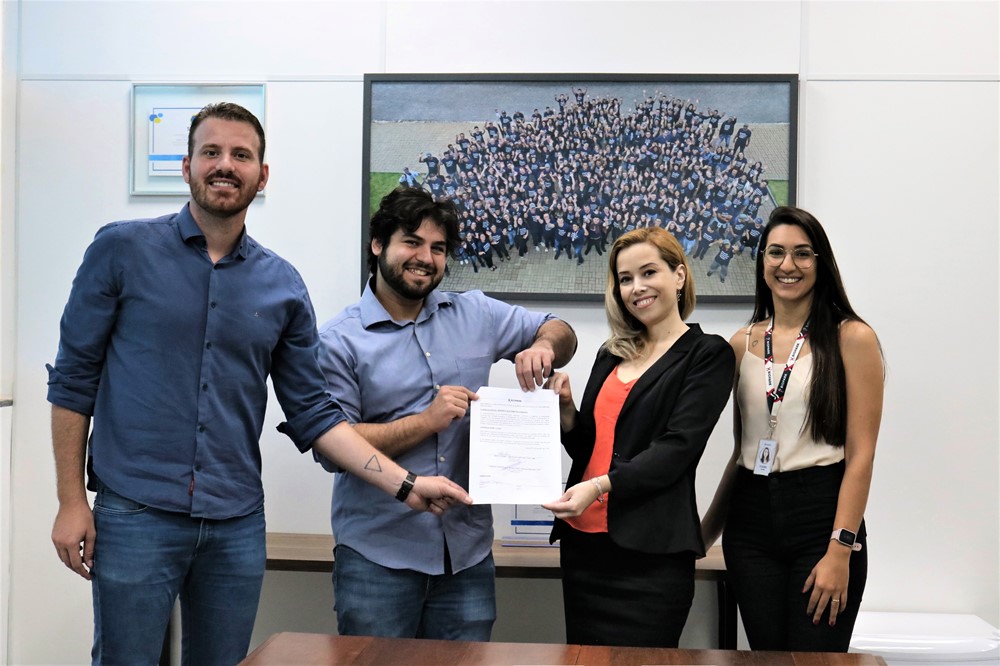 Text:
Biopark is soon to have a new resident company; Portunus will be installing a pilot plant for the production of a specific biotechnological product for use in agriculture.
Already operating internationally in Texas, Bogotá and Curitiba, Portunus will install a pilot plant of 108 reactors for the production of the Chitoguard, a completely green and environmentally safe biotech product for use in agriculture. Produced from shrimp shell, Chitoguard offers solutions for coffee crops, especially gourmet coffee production, where the traceability demand does not allow the use of chemical pesticides. The compound, which may replace chemical fungicides, is obtained through the enzymatic processing of shrimp shell residues.
"Our concept is that health is circular. Collective health affects directly the individual health. We want to provide an alternative to pesticides, contributing in an agriculture which will not bring harm to the producer, consumer and environment. Our product is biotechnological, but is also completely green throughout its process. We develop agricultural biotechnology, but by replacing chemical pesticides, our product also promotes collective health and thus, closing this circle of focus in individual health and personalized medicine," explained Portunus co-founder Isis Eich.
For Portunus, Biopark represents an innovation hub aligned with the company's goals. "I believe that an ecosystem such as the one we find here can't be found anywhere else in Brazil, even when compared to other countries. The founders of Biopark are, before anything else, scientists and it is inspiring to see this amazing couple reshaping the development of a whole region through technological innovation and valuing knowledge and science. We were able to visualize the outstanding development this region will achieve thanks to the Park, not only economical, but cultural as well, counting with a "humancentric" vision, mediated through technology. The Biopark's structure is contemporary and does not disappoint whatsoever when compared to other huge Technological Parks, even overcoming the benefits of several international incubators and accelerators," added Isis Eich.
Biopark's strategic location close to the triple frontier, in an agricultural region which applies precision agriculture along with cutting-edge technology, was also an important factor for Portunus in deciding to base their pilot plant there. Its collaborative space was also key to allow the company to continue to work in a decentralized and dynamic way and to follow their network vision of the innovation process.
Portunus is also active in personalized medicine, for example in the "Colors of Brazil" project, which is working on genetic sequencing focused on the ancestry of the Brazilian population and intends to create debate about the security and privacy of each individual's genetic information.
To find out more about Biopark and their resident companies, please visit www.biopark.com.br.