Title:
International talent on the agenda at Kunming
First image: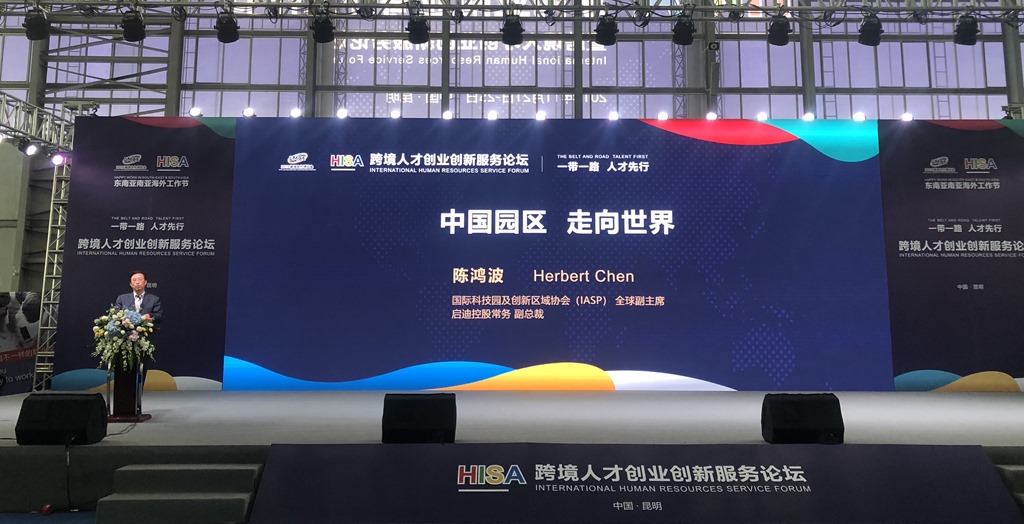 Text:
Kunming Entrepreneurship and Innovation Federation (KEIF) recently held the Southeast Asia and South Asia Overseas Work Festival & International Human Resources Service Forum.
As a frontier province in China open to Southeast Asia and South Asia, Yunnan is working hard to cultivate and attract cross-border talents and to foster a culture of innovation and entrepreneurship. KEIF's International Human Resources Service Forum addressed this theme of cross-border employment and entrepreneurship, the exchange of international talent, and how to incubate and cultivate international talent.
Over 400 delegates attended the forum, including leaders of government departments, well-known entrepreneurs at home and abroad, university leaders, representatives from human resources institutions, college students, international students in Southeast Asia and the media.
Herbert Chen, IASP Vice President and director of the China Office, attended the forum to deliver the keynote address, on the theme of Chinese Science Parks Going Global, where he shared TusPark's experience in international experience.
"It's a key step towards international development for enterprises, science parks and localities to go global, cultivate international talents and widen the international field of vision. As the world's largest association for science parks, IASP strives to build a platform of international exchanges for its members, and promote the common development of science parks and enterprises," Mr Chen commented.
After the keynote speech, Mr Chen also took part in a roundtable forum with human resources experts, government leaders and entrepreneurs from China and Southeast Asia. Participants exchanged views on industrial cooperation, project investment, human resource management and development trends, as well as sharing their experience of international talent incubation and cultivation across the region.