Title:
New Campus in Bilbao to transform former industrial area
First image: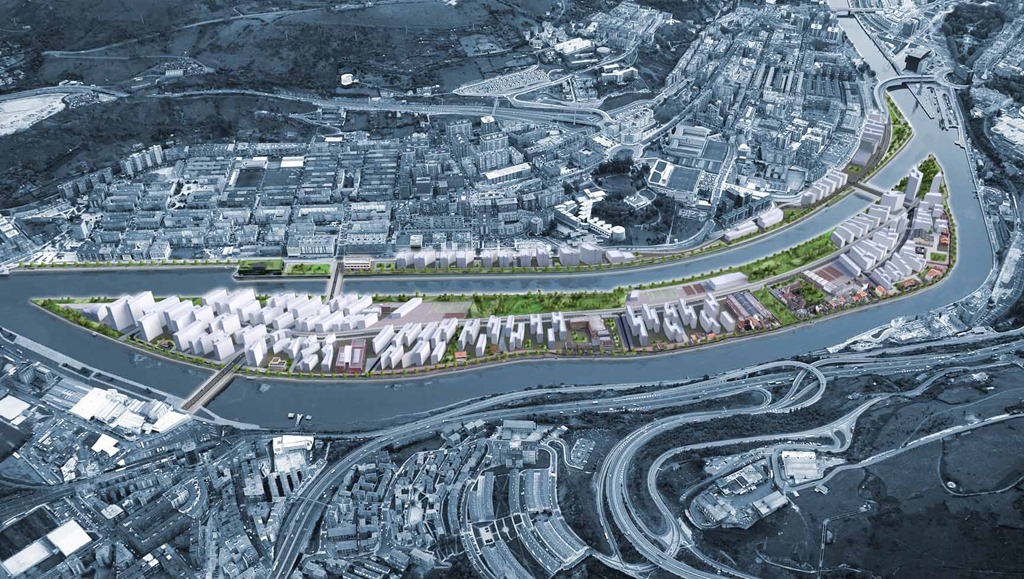 Text:
The Basque Country Technology Parks Network (Spain) is to have a new Campus in Bilbao, located on the Isle of Zorrotzaurre. The Network already brings together a total of 618 high technology businesses, employing almost 20,300 professionals.
New infrastructure includes the creation of two different zones of activity, which will be located at each end of the island. The area combines land classified for residential, tertiary and non-residential use.
North Point, the most advanced zone at town planning level, will be home to technology companies specialised in the intensive use of new technologies, such as artificial intelligence, big data, and IoT, as well as companies linked to the cultural and creative sectors. The measures carried out in the initial phase in this area will include the recovery and rehabilitation of three existing buildings, while a new building at South Point will accommodate corporations and startups offering knowledge-intensive business services and advanced services to industry.
This future Technology Campus will boost the transformation of the former industrial area of Zorrotzaurre into an innovative and dynamic new island. It is to be built on a total area of 133,000 m2, distributed across the two ends of the new district, 33,000 m2 in the North Point and 100,000 m2 in the South Point. The initial investment focuses on two plots and requires an investment in construction of more than 22 million Euros. The work is expected to start in the first quarter of 2023.
The Zorrotzaurre Masterplan was originally drawn up by renowned architect Zaha Hadid, Pritzker Prize winner in 2004. It involved the complete opening of the Deusto channel, transforming Zorrotzaurre peninsula into an island of economic and social development only 15 minutes from the centre of the city.
It lies in the very centre of Bilbao, connected to the rest of the city by mobile bridges and walkways, and with rapid access to the future high-speed train station and the airport. Sustainability, the energy transition and environmental conservation of the surrounding area are key commitments.
With new, vibrant spaces for leisure and business, the Campus hopes to encourage businesses to establish themselves on the Isle of Zorrotzaurre, complementing public amenities and residential facilities with environmentally-certified office blocks, which will promote the growth of the business network in Bizkaia.
The Basque Country Technology Parks Network and the Bilbao City Council share the vision of the new Technology Campus in Zorrotzaurre as a pioneering project for economic development in the region.