Title:
New CEO for UFRJ Science Park
First image: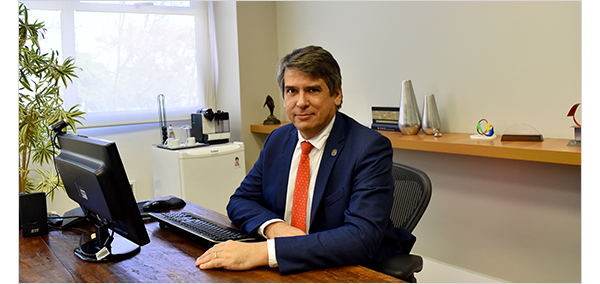 Text:
IASP is pleased to welcome Vicente Ferreira to our network as new CEO of our member the Federal University of Rio de Janeiro Science Park (UFRJ Science Park), Brazil.
He takes over from outgoing CEO José Carlos Pinto, who held the role from November 2015 until September 2019.
Former director of the COPPEAD Institute of Administration of UFRJ, Professor Vicente Ferreira took office during a ceremony held at the UFRJ Center for Health Sciences, in the presence of the UFRJ Rector, professor Denise Pires de Carvalho, the Vice-Rector, professor Carlos Frederico Leão Rocha, outgoing CEO José Carlos Pinto, and Mauricio Guedes, founder of the Park, current Technology director of Faperj and IASP Past President.
"A great joy and butterflies in my stomach," was how Vicente Ferreira described the challenge of taking office as the Park's CEO for the next four years. During the ceremony, he praised the work of his predecessors and highlighted the park's huge potential for future achievements. The initial priorities of his management will be to strengthen communication channels with stakeholders, to reinforce the park's role as an open lab, and to expand the efficiency of the management processes.
UFRJ Science Park was one of the three winners of IASP's 2019 Inspiring Solutions programme with their Short Circuit Gallery of Public Art – find out more about their innovative idea here, and about the park at https://www.parque.ufrj.br/en/