Title:
New space for entrepreneurs at Sofia Tech Park
First image: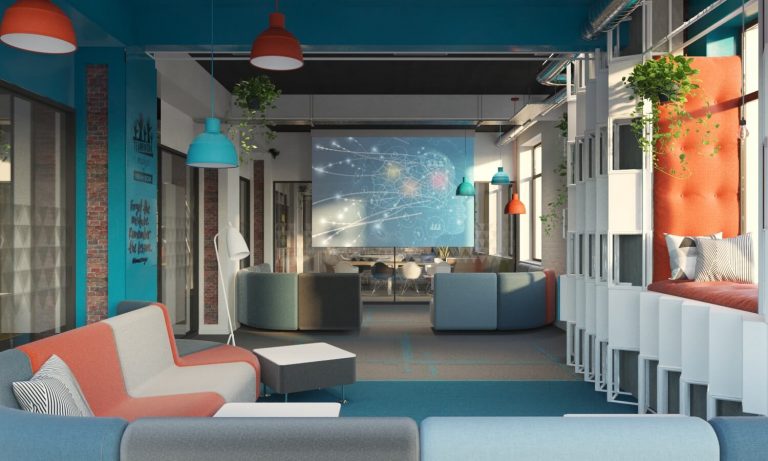 Text:
On February 21st, Sofia Tech Park, the first science and technology park in Bulgaria, officially opened coworking and meetup facilities in its business incubator building – Groworking Space and Club House. These new spaces will help to create synergies between research institutions and entrepreneurs, as well as support the development and commercialisation of applied science projects.
Groworking has 35 affordable work stations available, which will be targeting small startup teams as well as idea-stage entrepreneurs and students. Users will have the opportunity to discuss ideas and projects with the eleven teams that work at the high-tech labs in the complex, and can access mentor sessions, business advice, and an incubation tech transfer program. The Club House will be home to a number of tech clubs for people interested or involved in spacetech, drones, robotics, artificial intelligence or science-based entrepreneurship, including the Space Club which will support the development of the space industry in Bulgaria.
"The purpose of the Space Club is to bring together everyone who cares about the development of the space industry in Bulgaria. We want to help projects move from the idea stage to specific R&D proposals and market-ready startups. Another important goal of the club is to present the specifics of the space industry in front of a larger audience. There are not many practically-oriented events and venues covering the topic, so hopefully, we can be a focus point that will act as a catalyst for things to start happening," explained Zdravko Dimitrov, initiator of the Space Club and business development manager at Sat-1.
Sofia Tech Park officially opened its doors five years ago to bring together entrepreneurs, science and mature businesses and facilitate the exchange of know-how and ideas. It's the first science and technology park in Bulgaria and the only state-owned hub aiming to support the startup movement.
Last year, the multinational technology company Bosch also joined Sofia Tech Park by opening a new engineering centre, currently employing about 200 people. Software engineers there work on automated driving systems: for example, such that monitor and evaluate driver behaviour in vehicles or process incoming data, make decisions and initiate driving actions to prevent accidents on the road.
"Our long-term goal is to become the hotspot of science-based entrepreneurship and tech transfer in South-East Europe and attract global, regional and national researchers, scientists and innovative companies", commented Natanail Stefanov, Vice Chairman of The Executive Board of Sofia Tech Park.
To learn more about Sofia Tech Park, please visit https://sofiatech.bg/en/.