Title:
Opportunity for space startups to accelerate their business
First image: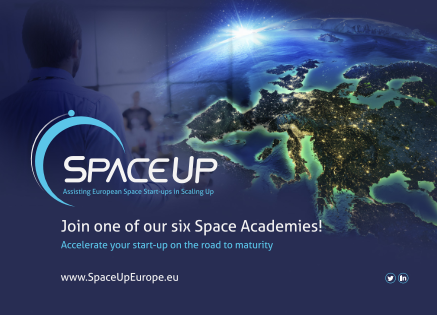 Text:
As a member of the H2020 SpaceUp project, which aims at giving Europe's innovative startups in the space sector the opportunity to become world leading companies, IASP will be participating in Space Academies taking place across Europe.
SpaceUp will organise their first Space Academy in Helsinki, Finland from 3-4 June. During the two-day event, experts will provide space-specific commercial and technical assistance to startups, and help them to apply space technology to non-space industrial, scientific and commercial fields, and vice versa.
Within the European space sector, startups have the possibility to find support and mentoring during their early stages in business incubation centers and from the European Space Agency. Unfortunately, the period startups can spend in incubators is limited and eventually they will have to leave their sheltered environment at a stage when most of them are not yet mature companies. This is where SpaceUp comes in.
The 6 Space Academies to be held across Europe will offer expertise to entrepreneurs, finding solutions to their needs through customized coaching services, one-to-one dedicated solutions, networking and matchmaking. Day one of the Space Academy consists of modules focusing on key topics such as investment readiness and relationships, crowdfunding, how new advanced technologies can shape your business, business model analysis, or European funding. Day two gives participants the chance to listen to keynote speakers in panel sessions as well as selected startups pitching to investors.
Applications are currently open to apply to join the Space Academy in Helsinki, where 10 selected startups/SMEs will be selected to receive specialised and tailored services for free, such as one-to-one meetings with investors and matter experts; international creditworthiness certificate; feasibility study on EU public funding; and intellectual property right analysis.

Interested startups can sign up by 28th February at www.space-academy.eu or contact info@space-academy.eu.