Glasgow City Innovation District
Background information
Glasgow City Innovation District is a hub for entrepreneurship, innovation, and collaboration that builds on Scotland's rich tradition of scientific excellence and industrial collaboration, and is considered one of the country's first areas of innovation.
Bringing together ambitious, forward-thinking people, the District is tackling societal and global challenges and driving inclusive economic growth.
Located in the heart of Glasgow City Centre, the District is home to many innovative companies and organisations who've located there to nurture and accelerate growth, improve productivity, and access world-class research and technology from the University of Strathcylde.
It is home to several hubs of innovation, including the University of Strathclyde's Technology and Innovation Centre for research, commercialisation and business research and development, a multi-disciplinary centre of knowledge exchange where collaborative teams to solve global issues across sectors including Energy, Health, Manufacturing, and Future Cities. The Garment Factory is also located there, a coworking and office space in a refurbished and restored listed building from 1899, as well as a former textiles warehouse that has been transformed into a studio complex for visual and applied artists but also cultural social enterprises and creative businesses.
And it's also the home of the Centre for Applied Photonics, the UK's only Fraunhofer Institute, and three national accelerators: the Connected Places Catapult for cities, transport and places; the High-Value Manufacturing Catapult to bridge the gap between business and academia, and the Offshore Renewables Catapult, accelerating the creation and growth of UK companies in offshore renewable energy.
Logo: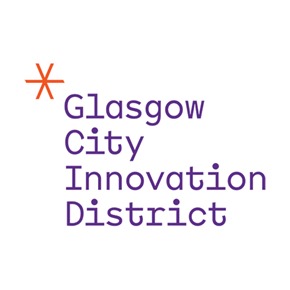 Name

Glasgow City Innovation District

Location

Glasgow, United Kingdom