Title:
Skolkovo launches new softlanding programme
First image: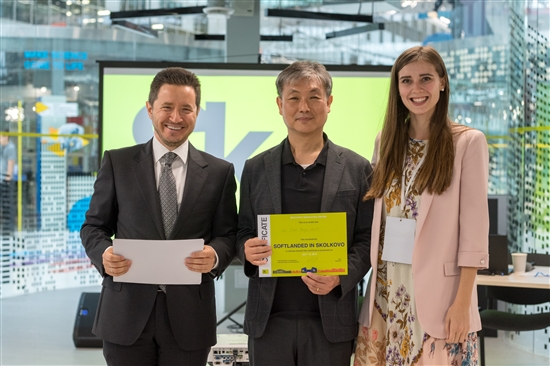 Text:
International companies looking to expand into the Russian market can now turn to Skolkovo Technopark for support as they find their feet in the local ecosystem with the new softlanding programme.
Focusing on companies in the energy, biomedical, industrial and IT sectors, the programme offers free coworking office space and a full business support package including liaison with development institutions, public authorities, partners, and investors, project analysis and goals setting, operational support and advice and a personal project manager. The cultural dimension of expanding overseas is also addressed: the programme helps companies to integrate into the Skolkovo community, participate in events and get to know residents, as well as offering an immersion into Russian life, culture and traditions. They also helped with the visa process and organised excursions to get to know the country.
Launched earlier this year, its first round welcomed five high tech companies from South Korea who develop household appliances and industrial equipment, as well as robots to automate the assembly process, equipment for the production of semiconductors, microelectronic assembly, mobile X-ray equipment for medical and industrial use, cosmetics, and a mobile platform for business matching. Two of the companies, Shinshinsa and Weco, announced their intention to establish a subsidiary in Russia and to become Skolkovo residents.
Kirill Kay, Senior Vice President of the Skolkovo Foundation for Innovations said: "It is very important for us to attract new people to Skolkovo, to offer more services for startups, developers and scientists from different countries. I am sure that you will tell your colleagues, partners and clients about the opportunities that exist in Skolkovo. After all, the most important thing is people, and business development is unthinkable without networking. We are always open to you."
To find out more and apply for the next round of the softlanding programme, visit http://sk.ru/foundation/international/softlanding/.