Yothi Medical Innovation Disctrict
Background information
Thailand's Yothi Medical Innovation District is a collaborative effort involving the National Innovation Agency (NIA), Thailand Center of Excellence for Life Sciences (TCELS), and regional alliances, supported by the Ministries of Higher Education, Science, Research and Innovation; Health; and Education.
It aims to reshape healthcare through advanced services in line with Thailand's 4.0 plan. The district spans 1.7 million square meters and includes Medical and Education Institutes, Research Units, Residences, and collaborative spaces. It houses global research outcomes and aims to be a hub for medical innovation.
Yothi District engages startups, investors, and developers to enhance domestic medical standards. By merging data-driven insights with treatment, it strives to offer evidence-based healthcare solutions.
From research incentives to startup support, Yothi District's initiatives aim to transform healthcare innovation and elevate standards. Overall, it represents Thailand's determination to revolutionize healthcare through medical advancement.
Logo: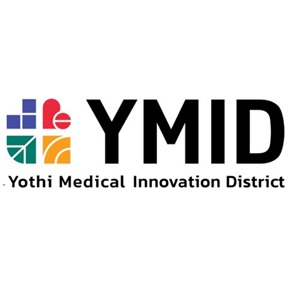 Name

Yothi Medical Innovation Disctrict

Location

Ratchathewi, Thailand

Main technology sectors

Name:

Agriculture and Forestry

Name:

Health & Pharmaceuticals

Name:

Software Engineering