Garaia Parque Tecnológico S.Coop.
Background information
Polo Garaia is a public-private initiative established by the Mondragon Corporation, located in the geographic centre of the Basque region.
At the heart of a fertile industrial network and an innovative tradition, the Polo Garaia promotes cross-sectional relationships between companies, technology centres and universities through a collaborative model, making it a favourable location for new tech-based companies and entrepreneurs.
With a high concentration of companies working with machine tools, appliances, automotive parts, Polo Garaia's ecosystem has become a reference point in the fields of Mechatronics, Advanced Manufacturing, Big Data, and New Materials. It is already home to 1774 researchers
The park collaborates closely with the Mondragon University and its business, engineering, education and audiovisual faculties, as well as with Spain's first degree in entrepreneurship and innovation, making it an ideal base for companies looking for a highly skilled workforce and for launching industrial startups.
Services include 15 different technology centres and R&D units covering Transport, Industrial Equipment, Energy, Sustainability and Health, based on different fields of knowledge, such as Mechatronics, Power Electronics, Advanced Manufacturing, Embedded Electronics (TEICs), Efficiency and Storage, and Micro-Technologies. It also offers an incubator for early stage projects, co working space, plots for construction and laboratories and workshops, along with training for entrepreneurs, aid in accessing public and venture capital funding, patent management and a living lab.
Logo: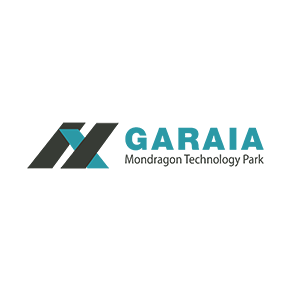 Name

Garaia Parque Tecnológico S.Coop.