Heading:
Startup from Tecnosinos Tech Park finalist in UN Environment challenge
Publication date - real:
20-03-2018
User info - details - for blog detail layout:
First image: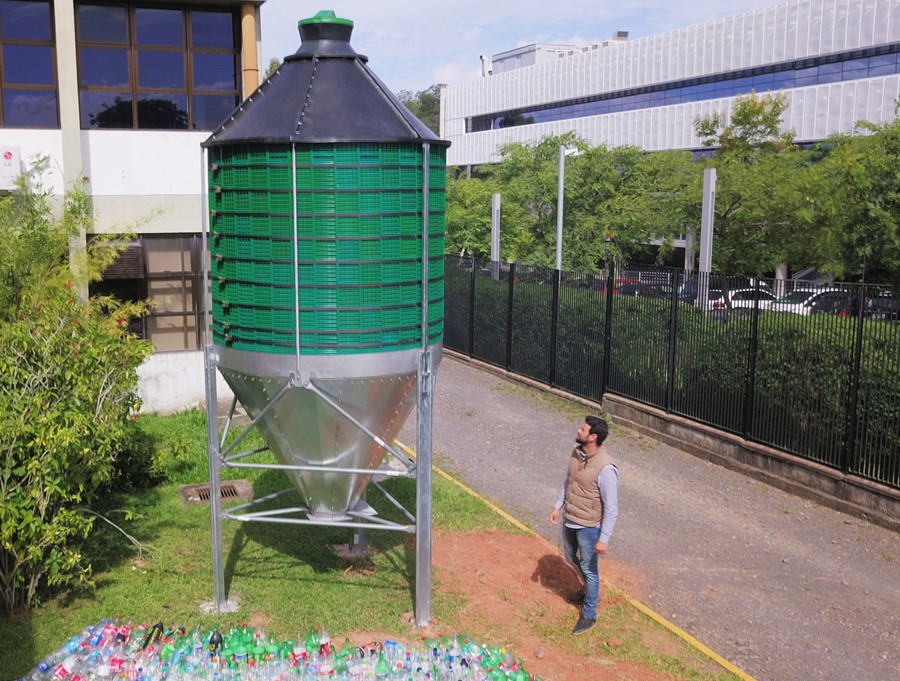 Long text:
Organized with the support of Think Beyond Plastic, the Marine Plastics Innovation Challenge is a global sustainability competition that awards companies that develop innovative solutions for marine litter.
Innovation based on sustainability is one of the main pillars of Silo Verde, a startup incubated at UNITEC/Tecnosinos Tech Park that uses PET bottles to develop grain storage silos. By turning an environmental issue into a solution that benefits small and medium family farmers, the company achieved 5 of the 17 sustainable development goals defined by the UN ("end hunger, achieve food security and improved nutrition and promote sustainable agriculture"; "build resilient infrastructure, promote inclusive and sustainable industrialization and foster innovation"; "make cities and human settlements inclusive, safe, resilient and sustainable"; "ensure sustainable consumption and production patterns" and "conserve and sustainably use the oceans, seas and marine resources for sustainable development").
According to Manolo Machado, one of Silo Verde's founding partners, the Marine Plastic Innovation Challenge is a seal of approval for their product: "It's very rewarding to be able to show that we can make the difference through impact innovation and be acknowledged for that". The winner will be revealed in March at the Sixth International Marine Debris Conference in San Diego, California.
Silo Verde's previous award experiences include the Eco award (2017) and the Smart Cities award (2014), one of the largest events for sustainable entrepreneurship in Brazil. Recently, the startup has installed PET bottle collection stations throughout the city of São Leopoldo. "I believe that seeking sustainability in processes, services and especially our daily lives should be an inherent characteristic in our behavior. We must realize that if seven billion people do their share, they make the planet a good place to live. A sense of collectivity is indispensable to society's development as a whole", Machado added.
There are no comments