Title:
ENRICH IN BRAZIL - Study Tour
Conference theme
Matchmaking & Innovation Tour to Brazil
First image: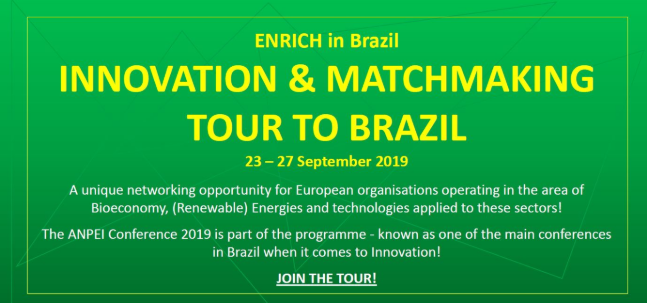 Notes:
A unique networking opportunity for European organizations operating in the area of Bioeconomy, (Renewable) Energies and technologies applied to these sectors.
Establish contacts & increase your network, Internationalize your business and research ideas, products and services to Brazil, increase technological cooperation capacities towards Brazilian market,,find your research and technology collaboration partners from Brazil. The price (180€) covers ANPEI conference ticket, all visits, roundtables, workshops and matchmaking events (flights and accommodation not included).


The Tour programme is ready! For more details see the full programme here with all the information and follow the link to save your spot https://bit.ly/2VAsmTh !
Please address all your questions for further information related to the Tour to: brazil@enrichcentres.eu