Title:
Awards for espaitec social innovation projects
First image: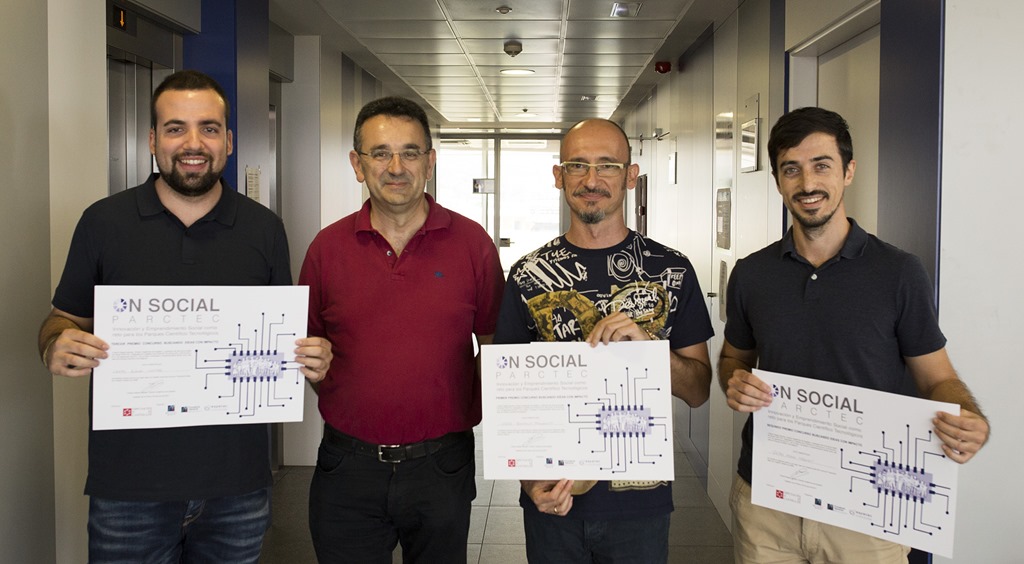 Text:
Espaitec recently held its third On Social PARCTEC Project event, which recognises social innovation and social entrepreneurship.
The candidate projects for the Seeking Ideas with Impact (BICI) awards were presented during the event, which is an initiative for university community members with innovative, sustainable ideas. These awards seek to support Universitat Jaume I (UJI) entrepreneurs by selecting projects with a triple impact: business, social and environmental.
The first award for the best idea with social impact went to the project "Senior Monitoring", by Oscar Belmonte, a teacher in the UJI Department of Computer Languages and Systems. The project uses new technologies to know the state of an elderly person's well-being by alerting users if an abnormal or dangerous situation arises. This project received €750 and a free 3-month incubation in Bridge for Billions, the first online incubator in Spain for new social entrepreneurs.
The second award went to the project "Podium" by Victor Meliá, who works with espaitec company Soluciones Cuatroochenta. It promotes healthy habits and helps tackle pollution and mobility in cities by increasing journeys made by bike. The project "Purpose" by Javier Alonso, an Industrial Design and Product Development student, was the winner of the third award. His idea consists in designing, building and distributing a musical instrument that adapts to people with functional diversity.
The three award-winners and the other BICI competition candidates - 13 ideas in all - will be able to participate in UJI's new entrepreneurial programme starting next academic year. Providing guidance in social, entrepreneurial and social innovation orientation, the programme will help transfer talent and knowledge to become initiatives that respond to social problems in the province of Castellón.