Title:
Biopark welcomes researchers from Canada
First image: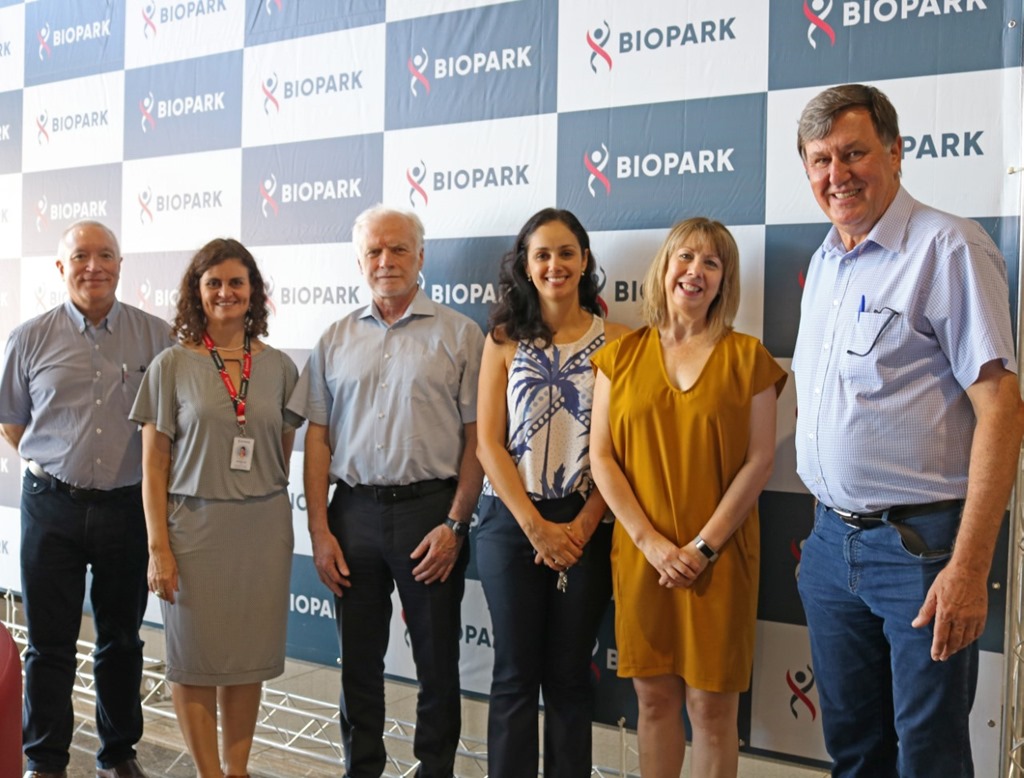 Text:
Biopark recently welcomed a delegation of Canadian researchers to discuss future collaboration between the Brazilian park and Canadian institutions.
The Canadians were welcomed by the Biopark president, Luiz Donaduzzi, the Director of Research, Development and Innovation, Josélia Larger Manfio and the Consultant of Biopark in Canada, François Godbout, while the Canadian delegation included researchers Renée Michaud, Director General of INAF - Institute of Nutrition and Functional Food at Laval University and Denis Richard, Director of IUCPQ – Institute University of Cardiology and Pulmonology of Quebec.
During the two days, the agenda included on-site presentations on the current research projects in the Biopark laboratories, visits to the campus facilities at UFPR Toledo and meetings with representatives from UFPR and UTFPR (Paraná Federal University).
Biopark is currently developing a research project into the study of chronic social diseases and a biomaterials laboratory, which also has the partnership of UFPR, UTFPR and Erasto Gaertner Hospital.
"We have already made great progress towards the creation of the laboratories and now we are in the phase of structuring the teams, together with the other partners. The laboratories were set up and they will be expanded according to demand," explained Biopark president Luiz Donaduzzi.
In 2018 INAF signed a collaboration protocol with Biopark which started a collaborative research structure between Quebec and Brazil, enabling the training of students, professionals and researchers for the prevention and treatment of chronic diseases as social problems, through the development of functional food and innovative products.
"On our visit, we were able to see the technological and scientific advances made since the beginning of our collaboration, especially in the project 'Beneficial effects of the camu camu fruit' - the results are very promising. The vision in the future of the Biopark founders, combined with the dedication of the scientific teams involved, are the factors responsible for the success of this partnership. This collaboration is a motive of pride for us," commented Renée Michaud, Director General of INAF.
For Denis Richard, the potential of Biopark is impressive. "I am very amazed by the quality and scope of the initiative, even more, by the promising future of the projects with our Institute, Laval University, Biopark and its university partners," he highlighted.
Luiz Donaduzzi also says that the Park intends to advance with international partnerships to attract initiatives in the area of research and innovation. "We are developing a model of international cooperation to bring laboratories from other countries to Toledo as well."To find out more about Biopark, please visit https://www.biopark.com.br/site/.