Title:
Blockchain in science parks
First image: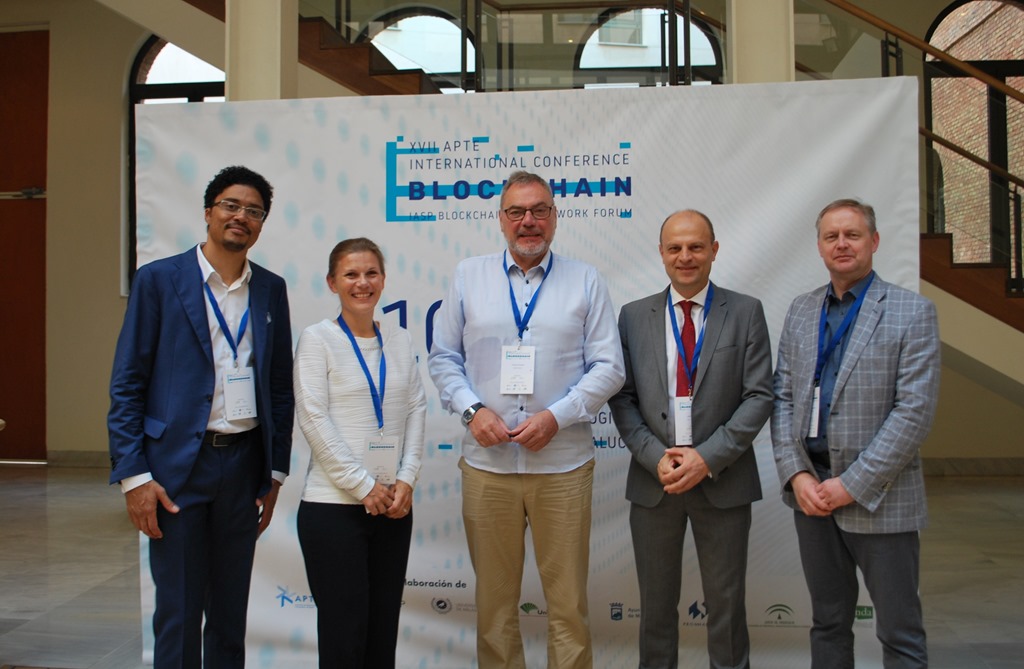 Text:
Blockchain technologies are increasingly used in a range of industries, from shipping to finance to mobile applications, and science parks are home to many of the companies in the vanguard of this new technology.
The recent APTE International Conference in Malaga, Spain, focused on this theme, exploring the impact of blockchain technologies on science parks in different sectors and its implementation on a European level. The event gathered over 200 delegates representing science parks, universities, EU institutions and both startups and multinationals. With the Mayor of Malaga Francisco de la Torre officially opening the conference at the University of Malaga, joined by the Director of the Technology Park of Andalusia Felipe Romera, IASP Director General Luis Sanz and Manuel Ortigosa Brun, head of the regional Ministry of Innovation, Enterprise and Entrepreneurship, the city is consolidating its position as a hub of blockchain expertise.
The event also provided an opportunity for members of IASP's blockchain subnetwork to hold their first meeting. Coordinated by Sonia Palomo of the Andalusia Technology Park (PTA), the group brings together science parks from 19 different countries who are active in the field of blockchain.
IASP COO Ebba Lund presented data from a recent survey of blockchain use in science parks from 24 different countries, indicating that 73% of the surveyed STPs already have resident companies who use blockchain technologies that offer new business models and revenue sources. The companies get support from the science parks where they are located, as more and more STPs provide services related to blockchain and other new technologies. The survey reflected a need to increase the knowledge base about blockchain, and STPs play an important role facilitating learning events for their companies.
Cryptocurrencies may be the best-known application for blockchain, but they are by no means the only one, and members of the IASP Blockchain subnetwork shared some of examples of their work in other fields. Olivier Zephir of Technoport Luxembourg described a blockchain-based digital assets catalogue that can support creative industries such as music & photography, creating trust and helping creators reach clients and investors. In Bulgaria, Sofia Tech Park is working with both multinationals and startups on blockchain applications and innovative products, explained CEO Todor Mladenov, making the country the Balkan hub for blockchain, while in Estonia, Tallinn Science Park Tehnopol-linked company Ignite is part of a European project developing diverse services related to e-government, car sharing and social media. Finally in Spain, the Galicia Technology Park Tecnopole is developing their own cryptocurrency, with their virtual coin an innovative way for resident companies to pay for services inside the park.
Resident companies from STPs across Spain also gave an insight into the current use of blockchain in a session moderated by APTE general manager Soledad Diaz, with applications including the shipping industry, telecoms, and logistics all benefiting from its guarantee of security & trust in business.
Some members of the IASP Blockchain subnetwork also attended the kickoff meeting of the EU project "Peers to blockchain" on the day prior to the event, where three STPs (the PTA, Technoport Luxembourg and Algarve Science and Technology Park) will be will be working closely together supporting innovative SMEs who use these technologies.
Click to find out more about APTE and the IASP Blockchain subnetwork.
Images: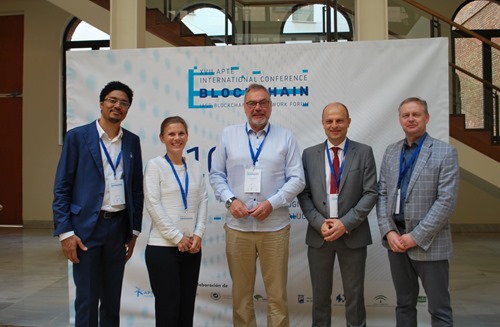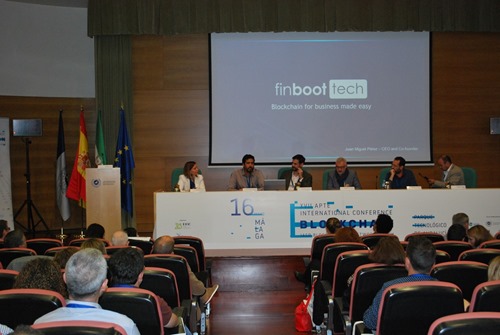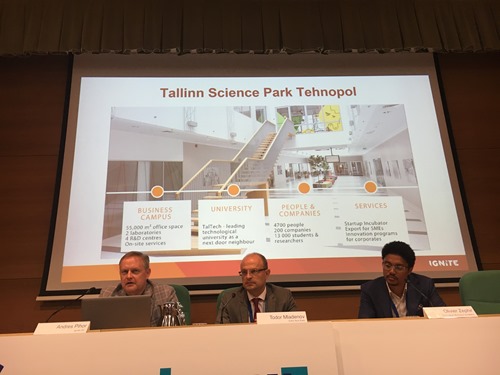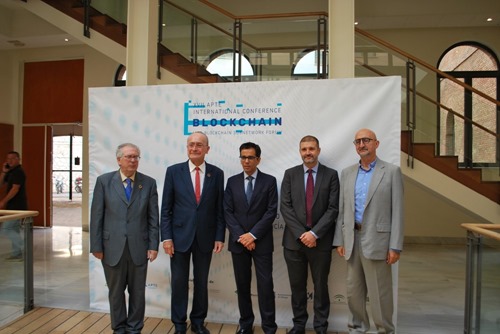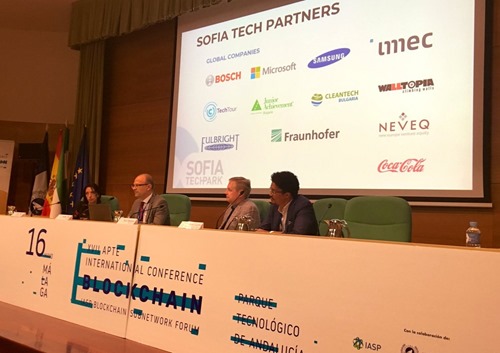 IASP members from Luxembourg, Iceland, Bulgaria and Estonia with COO Ebba Lund
Soledad Diaz moderates the resident company panel
Andres Pihor of Ignite presents their blockchain initiatives
Luis Sanz (far right) with Felipe Romera and the Mayor of Malaga Francisco de la Torre
Sofia Tech Park CEO Todor Mladenov