Title:
IASP continues knowledge sharing events in the online space
First image: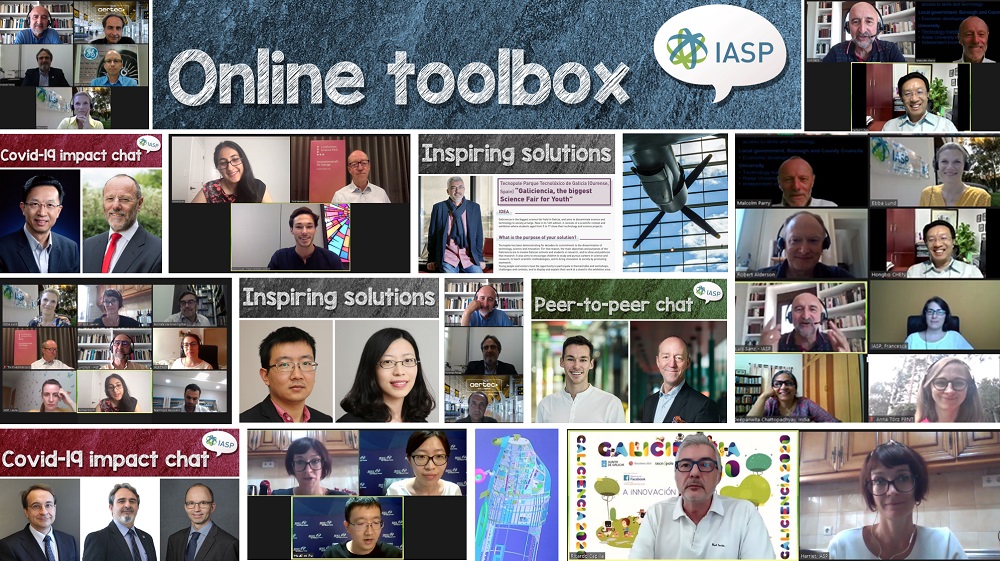 Text:
The "new normal" under COVID-19 has meant moving many of our in-person activities online, including knowledge sharing events and international networking.
JULY WEBINARS
This month IASP's webinars have continued to bring together professionals from innovation ecosystems around the world to focus on best practice, and the impact of COVID-19 on STPs/AOIs and some of the technology sectors based in them.
Sector specific impact
Innovation, city-wide collaborations and community involvement were the key topics in our mobility webinar, where moderator Komal Doshi (Ann Arbor SPARK, USA) led a conversation with Bruno Sussat (Plexal at Here East, UK) and Tord Hermansson (Lindholmen Science Park, Sweden) that covered integrated public transport strategies, smart roadworks, micro mobility solutions and the role of innovation ecosystems in testing them in real-world scenarios
We also took a look at the aviation and aerospace sector: executives from GE Aviation, (based in Bromont Science Park, Canada) Akaer (based in Sao Jose Dos Campos Science Park, Brazil) & AERTEC Solutions (based in Andalusia Technology Park, Spain) explored the impact of remote working on their operations and ability to innovate. Vicente Padilla, Fernando Ferraz & Martin St-Amour shared their reflections on the difference between the leisure and business travel markets, passenger safety, and how the sector can stay agile in lean times, as well as how the innovation ecosystems where they are based have helped them during the crisis.
Innovation ecosystems and COVID-19
We continued our "COVID-19 impact chats" with a look at science parks in China & the UK. IASP Vice President Herbert Chen and Director of our China Office (TusPark, China) and Malcolm Parry (Surrey Research Park, UK) compared how startups and corporates can pivot their businesses, and discussed the need for flexible spaces & coworking areas. Real estate and STP services look set to evolve post-pandemic, predicting an increase in digitalisation that can expand the reach of innovation ecosystems and the services they offer to companies.
And we took a lighting trip through South, Central and North America in La Salle Technova Barcelona's "America Flying to the Future" webinar, where IASP members explored how different innovation ecosystems are dealing with the impact of COVID-19 and how to best support their startups and entrepreneurs in difficult times.
Inspiring Solutions: sharing best practice
The winners and finalists of IASP's Inspiring Solutions programme continued to share their best practice with colleagues around the world in webinars from Spain and China.
Ricardo Capilla of Tecnópole (Spain), a 2019 finalist, explored the "Galiciencia" children's science fair, which serves as an investment in future talent, a tool to raise the visibility of the science park in the local area, and disseminate science - the core business of an STP, even if its impact can't be measured on a balance sheet.
To finish off the month on a high note, we were joined by Heather Fu and Tony Jin of Shanghai Caohejing Hi-tech Park, who updated us on not one but two Inspiring Solutions! The Four-get Co-incubation Program is an IoT focused co-creation space, jointly operated by Bosch, bringing together startups, corporate & university partners, while the Thinkubation Accelerating Program brings the innovative solutions of entrepreneurs to Cisco, strengthening the innovation capacity of all stakeholders and forming a self-supporting ecosystem.
ONLINE TOOLBOX FOR ON DEMAND VIEWING
Consolidating the last two months of webinars, we are proud to launch the Online Toolbox, where IASP members can catch up on previous webinars with our on-demand video repository.
As well as the content above, it includes all our June webinars where we heard from members in 14 countries, including a conversation on lifesciences and collaboration, an Inspiring Solution for the maritime sector, and a focus on European, American and African innovation ecosystems under COVID-19 and the mobility sector. See last month's news for a detailed overview of our June webinars!