Title:
IASP Virtual viewing party in China
First image: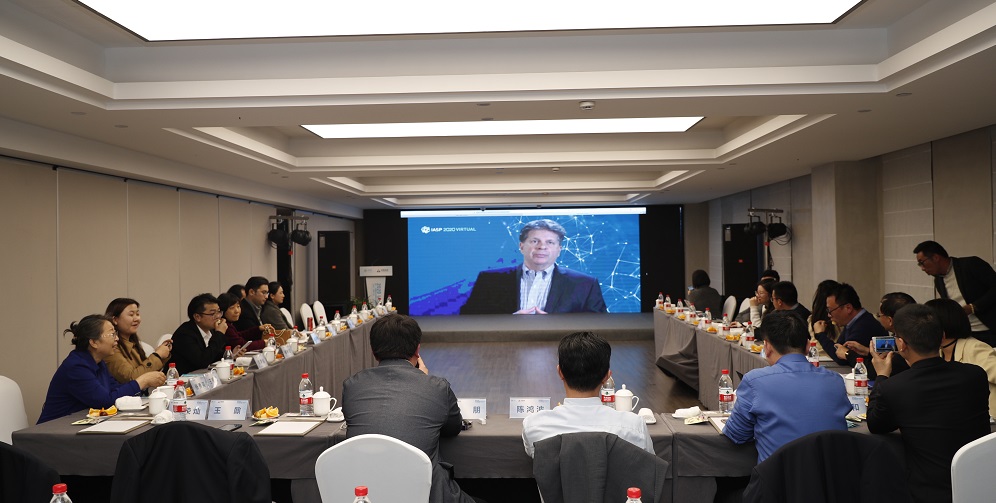 Text:
For a different way to enjoy our online World Conference, IASP members in China got together in Ningbo to participate in the first two days of IASP Virtual.
Hosted by the IASP China Office with support from Sino-Italy Ningbo Ecological Park and Sino-Italy TusCity, representatives of many Chinese science parks joined the "offline session" in Ningbo to hold discussions and watch the opening ceremony and the first day's sessions.
Before the conference began livestreaming, members from Beijing, Tianjin, Guangdong, Zhejiang, Yunnan, and Jiangsu heard opening speeches from Herbert Chen, IASP Vice Chairman and China Office Director, Peng Du, IASP China Office Executive Officer, Xiuying Zhang, Senior Advisor of the IASP China Office, and Baishun Han, Member of the Standing Committee of the Yuyao Municipal Party Committee, Deputy Secretary of the Party Working Committee and Deputy Director of the Administrative Committee of the Sino-Italy Ningbo Ecological Park.
Jiwu Wang, Chairman of TusHoldings, addressed IASP Virtual delegates on the opening day via video to offer his congratulations on the event, while in Ningbo other STP and AOI representatives led roundtable discussions on the conference theme "The Human Factor: People, communities and their innovation ecosystems", before joining the opening ceremony of the World Conference.
Even though we couldn't meet our Chinese colleagues in person, they were able to send a real physical gift to celebrate our first virtual conference! During the General Assembly, CEO Ebba Lund opened a "message in a bottle" which shared good wishes for the event and for the rest of the year sent from participants at last month's IASP Chinese Member Salon.
With the theme of "Open boundaries to pursue excellence," the 6th IASP Chinese Member Salon was held in Jiangbei New District, Nanjing, Jiangsu Province on October 30th. It was hosted by Nanjing Science and Technology Bureau, and co-hosted by IASP China Office, Nanjing Jiangbei New District Central Business District, and IASP member Jiangsu TusPark (Jiangsu) Innovation Research Institute, and included a video speech from IASP Advisory Council President Luis Sanz and other international experts. They explored the relationship between international open innovation theories, methods and practices and the development of Chinese parks, as well as how government agencies, science parks and areas of innovation, companies and innovation ecosystems can collaborate for joint development.