Title:
International investor tour comes to Skolkovo
First image: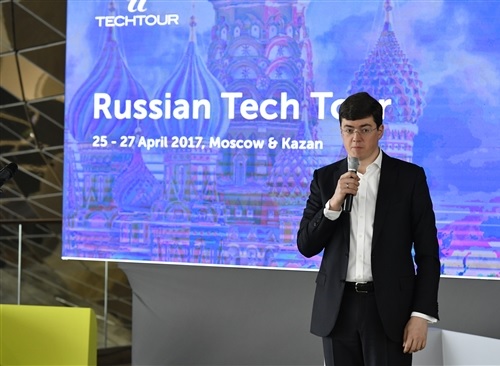 Text:
We believe that the Russian market is the largest market in the European context," said William Stevens, CEO of the Tech Tour, at the start of its visit to the Skolkovo Technopark. "That's why, despite geopolitical issues, business and innovation needs to look at the global market, and Russia for sure is an important market, especially fintech and industry."
More than 100 startups applied to take part in the Russian Tech Tour, its organisers said. Twenty-five were then selected for presentations, of which about one third are resident startups of the Skolkovo Foundation, including ExoAtlet, Energolesprom, Playkey, Aeroxo and Skorista.
"The fourth Russian Tech Tour represents a new model of communication with international investors for the Russian market, in that the companies presented on the Tech Tour have already passed through a tough selection process," said Pavel Korolyov, president of the Russian Tech Tour and a founding partner of Pulsar Venture Capital.
The delegation comprised about one-third investors focused on green technologies and the Internet of Things, one-third business consultants, and one-third representatives of investment banks who want to know what is happening on the Russian tech market and the Russian startup scene. Mostly they invest $3-$5 million in late stage companies that are already making a profit and a product that can be sold to their European markets.
"For the Skolkovo Foundation, it's really important to be on the radar of the foreign investment community, so we were extremely interested in a visit by such an impressive delegation," said Igor Bogachev, head of Skolkovo's IT cluster.
The last time the Russian Tech Tour was held, it also visited the Skolkovo innovation centre. Back then, only one building had been completed: the Hypercube. Four years later, the delegation was impressed by the giant Skolkovo Technopark, as well as by the level of state support for Russian hi-tech startups.