Title:
Khorasan Science and Technology Park to open new affiliate site
First image: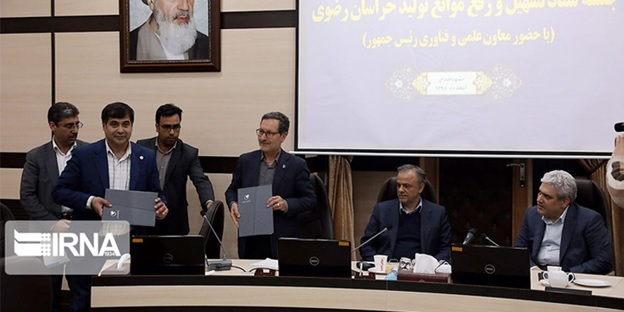 Text:
Khorasan Science and Technology Park (KSTP) has recently announced plans to open a new affiliate park on the campus of the Ferdowsi University of Mashhad.
The announcement came as KSTP signed a contract in in the governor's office of Khorasan Razavi province for the establishment of the new site
The contract for establishing the new affiliate was signed by Dr. Ghanbari, the president of KSTP, Dr. Kafi, the president of Ferdowsi University, and Mr. Razm Hosseini, the governor of Khorasan Razavi province, with the signing ceremony also attended by Dr. Sattari, Iran's Vice President for Science and Technology.
According to the agreement signed, Ferdowsi University of Mashhad will allocate premises to the new affiliate of KSTP over a 33- year period. Once up and running, it will work to improve the technology ecosystem in the city of Mashhad, provide more space for technology and science-based companies and create an opportunity for closer relationships between the university and the park.
Khorasan Science and Technology Park is one of the largest science parks in Iran, and was established in September 2008 to increase community wealth by encouraging and promoting a culture of innovation, and enhancing the competitiveness of tech-based companies and institutions in the park environment. It works to provide a platform for technology transfer, increase high value-added production, attract foreign investment, and help growing companies to enter global markets.
To find out more about KSTP, please visit https://www.kstp.ir/en.