Title:
Mobility solutions help Utrecht Science Park bring residents back on site
First image: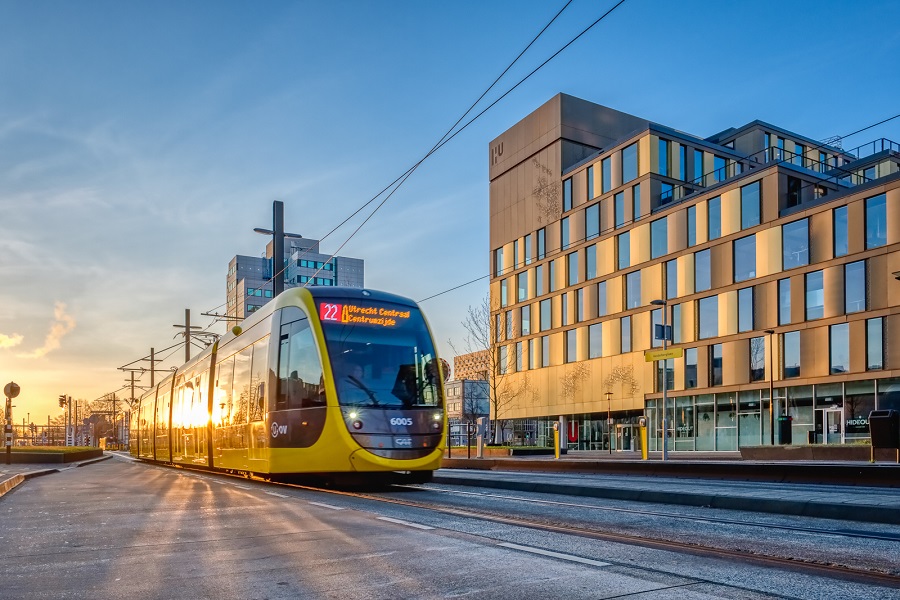 Text:
Where the Utrecht Science Park normally bustles, under the pandemic it was quiet for months. The compact area normally employs about 27,500 people and 51,000 students, some of whom also live there: all of that changed when the COVID-19 pandemic hit in March 2020, and only the hospitals remained open for acute care on site.
Six months later, education is restarting and companies are beginning to come back to their offices while observing COVID-19 safety guidelines.
Transport is one of the main challenges to the return to work. During the lockdown there were far fewer buses and no trams at all, and social distancing requirements when masks were not easily available meant only 15% of seats could be used. To keep Utrecht Science Park accessible, the province and the municipality agreed on a public transport plan that saw more buses and trams running, as well as mandatory face masks for passengers, to increase capacity.
Utrecht Science Park will expand considerably in the coming years with the arrival of the RIVM and new companies. More resident companies means more employees, and therefore more travel. This poses challenges for mobility, says Jan Henk van der Velden, CEO of Utrecht Science Park..
"As an area, we are already easily accessible by public transport and have the busiest public transport lane in our country. The tram line has been very well received and we notice how happy everyone is now with it. Construction delays can be quickly forgotten. It is another step towards a sustainable and healthy living and working area. A lot of people come by bicycle, but that is also a challenge to facilitate these flows with good facilities and to prevent bicycle traffic jams, for example. "
In the longer term, the partners at Utrecht Science Park and the municipality are aiming for a car-free area, where you park on the outskirts of the park. As an area where knowledge and development are central, Utrecht Science Park is investigating new innovative mobility solutions like electric scooters and self-driving cars to help people back to work.
While a lot of work can be carried out remotely, nothing replaces the value of the science park as a hub of innovation.
"We have discovered advantages of partly working from home and partly offering care and education remotely, but the disadvantages are also clear. The importance of the social component of physical encounters cannot be sufficiently emphasized in an area like ours. There must be a good balance in this. It is precisely in the corridors and creative brainstorming sessions that cross-pollinations arise. For good cooperation, meeting and therefore physical presence is also important for the contact between colleagues, between student and teacher and among students, or think of a laboratory researcher who spontaneously drinks coffee with a doctor, whereby knowledge is exchanged and new ideas arise," said Jan Henk van der Velden.
To find out more about Utrecht Science Park and the work they do, please visit www.utrechtsciencepark.nl/en/home.