Title:
New alliance brings together global innovation districts
First image:
Text:
IASP announces the creation of the new Innovation Districts Alliance, with founding members PI Buenos Aires (Argentina), Melbourne Innovation Districts (Australia), Porto Digital (Brazil), TusCity (Nanjing) and CHJ Innovation Center (Shanghai) (China), Berlin Adlershof (Germany), MIND - Milano Innovation District (Italy), Glasgow City Innovation District and White City Innovation District (UK) and 22@Barcelona (Spain) acting as coordinator. The alliance is open for more innovation districts to join, and we are pleased to also announce the recent additions of Ann Arbor SPARK, USA and Here East, UK, who join the group of founding members.
Arising from the collaboration of city governments, universities, companies and the local community, innovation districts are a key tool to build environmentally, economically and socially sustainable cities. They can be a mechanism for urban, economic and social transformation, regenerating depressed areas, refurbishing old buildings, run-down neighbourhoods or former industrial districts (brownfield); or creating new districts (greenfield). What they all have in common is a hybrid use of space, the coexistence of businesses and people that combine working environments with living, leisure and culture to spark innovation.
Coordinated by former IASP President Josep Piqué, the goal of the new alliance is to promote the mobility of talent, technology and capital, and to share knowledge and best practices between innovation districts, enhancing their complementarity. It will also consider the creation of performance indicators and an assessment framework. Its mission statement reads:
We, the innovation districts of the world, brought together by the International Association of Science Parks and Areas of Innovation (IASP), meeting in the cloud of 22@Barcelona, proclaim the importance of urban districts of innovation: arising from collaboration between public administration, universities, companies and the community; promoting talent and technology in the pursuit of cities that are environmentally, economically and socially sustainable, and enhancing the leadership of cities in the knowledge economy.
To this end, we come together to create a global Innovation Districts Alliance, under the umbrella of the International Association of Science Parks and Areas of Innovation (IASP) and coordinated by 22@Barcelona, which will serve as a platform for sharing best practices of how to develop, manage and connect urban innovation ecosystems for the prosperity of their cities and the world, promote their continuous networking throughout the world and collect and create knowledge and global data about innovation districts.
IASP CEO Ebba Lund said: "Since we first opened our membership to innovation districts and other areas of innovation a few years ago, IASP has been proud to represent a growing number of these urban projects. They make a vital key contribution to sparking innovation and driving development in their cities, and this group will help them learn from each other, share best practices, and showcase some of the vital work they are doing in their local communities."
Josep Piqué added: "The districts will also benefit from interaction with other types of innovation spaces, such as science & technology parks, areas of innovation, innovation hubs and more. Being part of the IASP global network gives our alliance the great advantage of a large, powerful platform which has been smoothly operating for years, so that we can use many of its contacts, meetings and services from day one."
The Alliance was announced at a hybrid meeting on March 1 with an in-person follow up at the Mobile World Congress in Barcelona on March 2; it will also be presented at our upcoming World Conference, IASP Luxembourg, from 12-15 September 2023.
Images: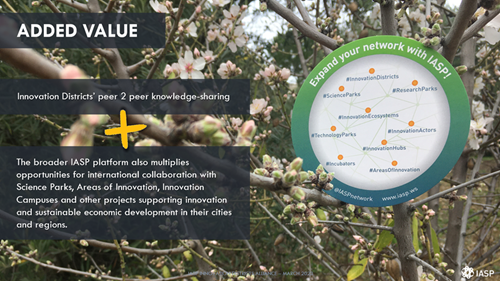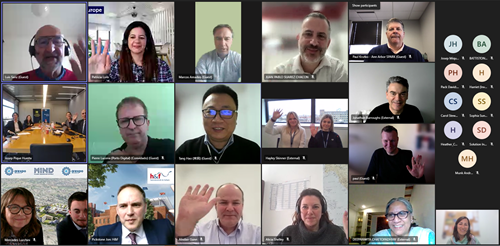 The founding members of the IASP Innovation Districts Alliance
The in person launch with Enrique Urreta (22@), Ebba Lund (IASP), Marta Fernandez (Melbourne Innovation Districts), and Josep Piqué
IASP CEO Ebba Lund speaking at the in person launch at MWC23
Presenting the IASP Innovation Districts Alliance at MWC23 in Barcelona
Added value for all IASP members
Hybrid launch with founding members and IASP representatives