Title:
Social entrepreneurship in Malaga
First image: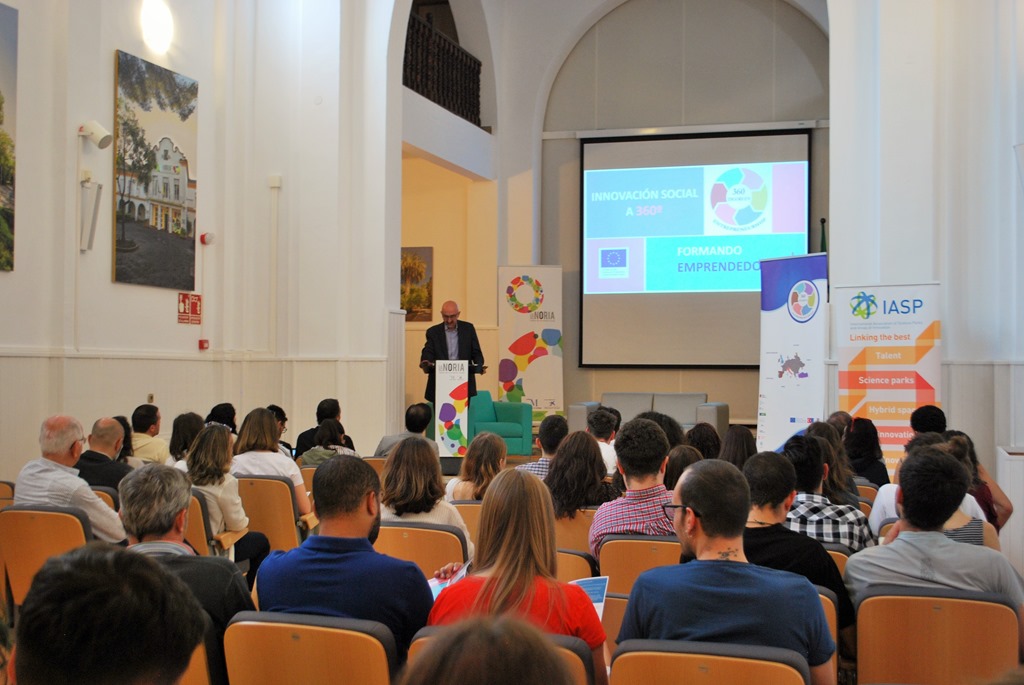 Text:
The IASP projects team recently held a training workshop for young entrepreneurs in Malaga, Spain, as part of the concluding phase of the 360 Degrees Entrepreneurship Project.
360 Degrees Entrepreneurship is a long term international project funded as part of the European Commission's Erasmus+ programme, which works to motivate young people to think about their own employability in creating their businesses, and also on how they can be relevant to society and provide employment opportunities for others, creating a ripple effect of entrepreneurship and employability. The project trains young people both as entrepreneurs and as entrepreneurship educators, so that their influence can extend beyond themselves and their own businesses into wider society.
The event "360 Degrees of Social Innovation: training entrepreneurs" on May 18th took place at La Noria, an incubator for social projects run by the government of Malaga province. Among the attendees were local youngsters as well as Erasmus students from across Europe, who heard from expert speakers including IASP Director General Luis Sanz, who opened the workshop, and others who reflected on the community impact of social entrepreneurship and how the 360 Degrees Project has worked to encourage it.
Some young entrepreneurs shared their experiences of European mobility, living and working in different countries. Attendees also took part in interactive, creative 'Social Cards Party' session where they used real-life examples to create projects which match local social needs. One example involved bringing together a charity supporting older people, a local agricultural producer, and an IT engineer to create a social media platform promoting traditional regional cooking.
Want to find out more about the 360 Degrees Entrepreneurship Project? Read about their goals and achievements at www.360entrepreneurship.net.