Title:
Speakers confirmed for IASP training seminar
First image: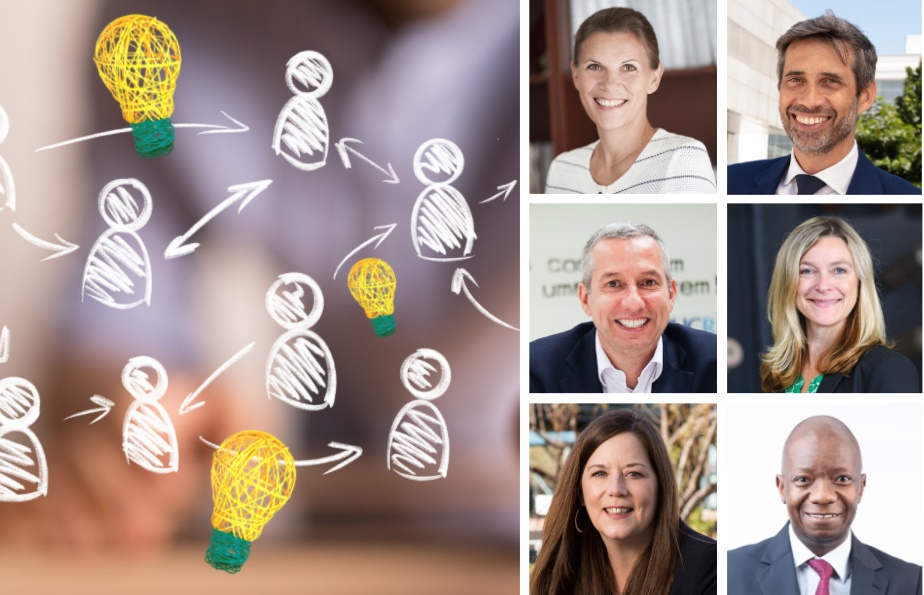 Text:
IASP is delighted to confirm the six speakers who will share their insights in our upcoming training seminar on the fundamentals of AOI and STP management!
The online version of our well-established Pre Conference Seminar, that usually takes place the day before our World Conferences, will address the main concepts of science parks and areas of innovation in an online format. To make sure you don't miss out, this year we are splitting the seminar into three modules on 18, 19 and 20 May, each running at global 'prime time' from 2pm to 5:15pm CEST to ensure that most time zones will be able to join us.
All the sessions will include networking and discussion time, for participants to share their own experiences and chat to the experts in smaller breakout groups. You can attend the complete 3-day curriculum, or select the day which is most relevant to the challenges you are facing; all participants will receive a certificate of attendance, and recordings of the sessions to watch on-demand.
Who should attend and why?
Particularly valuable to newcomers to our industry, new CEOs, and anyone currently working on setting up a new STP/AOI, you will learn the fundamentals of STP/AOI management from peers with years of experience in the field. Join us for this unique opportunity to connect with international colleagues facing the same problems and challenges.
There are still a few places available, with discounts available for IASP members – book here!
Read on for the IASP Training Seminar full programme and to find out more about the experts
Day 1
AOI/STP strategic models: Choosing the right model is crucial for the success of all innovation ecosystems, areas of innovation and science parks. In this session, IASP CEO Ebba Lund takes a look at the fundamental building blocks and strategies based on the IASP Strategigram's seven axes, as well as addressing new emerging roles of STPs, and how AOIs differ from the classic science park model.
Business incubation, business creation: Encouraging the creation and growth of new businesses is a key factor for economic development, and business incubation is a major pillar of most innovation ecosystems. Speaker Leandro Pompermaier, Startup Leader at Tecnopuc (Brazil) will explore the fundamentals of incubation and the synergies & interaction between parks and incubators, as well as the latest trends in successful business incubation.
Day 2
AOI/STP services: Value-added services are the trademark of STPs/AOIs. In this session, Carol Stewart, Associate VP at Tech Parks Arizona (USA) will talk us through some of the different programmes and services innovation ecosystems should offer for different stages of company development, and explore specific mechanisms to support innovative companies whatever their size.
Marketing and communication: as well as nurturing startups, STPs and AOIs must attract established companies and institutions. Join us to hear from Salvatore Majorana, Director of Kilometro Rosso (Italy), who will explore how an effective marketing and communication strategy is crucial to attracting businesses, people and talent, as well as spreading the message of the role and importance of STPs/AOIs.
Day 3
The governance of AOIs/STPs: the right governance scheme is crucial for the success of STPs and AOIs, especially at the early stages of a project. Lena Miranda, CEO of Linköping Science Park (Sweden), will discuss how you can determine the right mix of people and institutions that will have decision making capacity; a park's objectives, mission, strategic models, and its actual design (site, infrastructure, etc.) at the different stages of its development.
AOI/STP manager 'nightmares': the problems and challenges that STP/AOI managers will encounter, and the skills that they need to tackle them, are much more diverse than one seminar could ever cover. Drawing from a long career in STP/AOI management, McLean Sibanda, Managing Director at Bigen Global and former CEO of The Innovation Hub (South Africa) will explore the biggest challenges in the life of an STP manager and is particularly valuable to newcomers to the industry.