Name:
ENRICH IN BRAZIL- European Network of Research and Innovation Centres and Hubs
First image: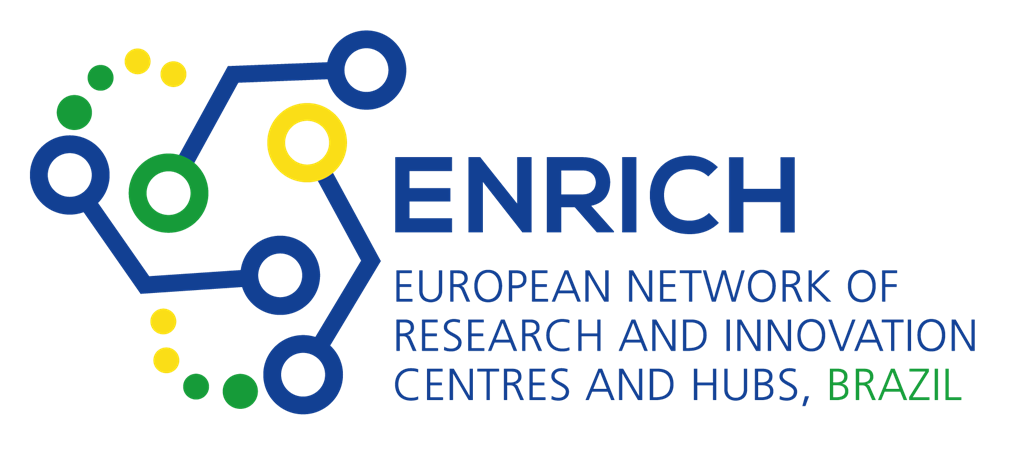 Objectives:
Objectives
Promoted by the European Commission through Horizon 2020, the ENRICH network currently offers services to connect European research, technology and business organisations with three global frontrunner innovation markets: Brazil, China and the USA.

ENRICH in Brazil will encourage a sustainable internationalisation of research and business organisations, as well as promoting cooperation among European and Brazilian research, innovation and business (R&I&B) organisations.
ENRICH in Brazil will be a main hub and contact point for European and Brazilian innovation actors interested in bilateral cooperation. ENRICH provides both support services and technology-related services, thanks to an extensive network of regional innovation hubs and external service providers. Focusing on knowledge-intensive sectors, ENRICH aims to stimulate collaborative research-to-market projects.
ENRICH benefits:
Connects European researchers and entrepreneurs with key players in Brazil
Links Brazilian researchers and entrepreneurs to innovation influencers in Europe
Provides guidance and advice on funding, internationalisation and business acceleration
Increases cooperation in research, innovation and business (R&I&B) between Brazilian and European organisations
Promotes excellence in business, research and innovation
Integrates existing European and Brazilian initiatives, projects and networks
Offers a wide range of custom made services
CONSORTIUM MEMBERS
FHG - Fraunhofer Gesellschaft Zur Forderung Der Angewandten Forschung Ev
ANPEI - Associação Nacional De P&DDas Empresas Innovadoras
CNI - Confederacao Nacional Da Industria
CONFAP - Conselho Nacional Das Fundações Estaduais De Amparo À Pesquisa
DLR - Deutsches Zentrum Fuer Luft - Und Raumfahrt Ev
EBN - European Business And Innovation Centre Network
FFG - Oesterreichische Forschungsfoerderungsgesellschaft Mbh
IASP - International Association Of Science Parks And Areas Of Innovation
RCISD - Regionalis Informacios Es Fejleszto Tudaskozpont Korlatolt Felelossegu Tarsasag
SPI - Sociedade Portuguesa De Inovacao -Consultadoria Empresarial E Fomento Da Inovacao S.A.
SU - Sabanci University
UNICAMP - Universidade Estadual De Campinas


CONTACT

Website: www.brazil.enrichcentres.eu/home
Email: brazil@eucentres.eu
Address:
ENRICH in Brazil
Armando Monteiro Neto building, 12th floor
Brasilia DF, 70040-010,
Brazil
Twitter: @ENRICH_Brazil
Facebook: @ENRICHinBrazil
Activities:
Activities
Find out what ENRICH has to offer you! Download the Service Portfolio 2019 here.
Don't miss the ENRICH in Brazil webinar series on STI LANDSCAPE IN EUROPE:
RESEARCH AND INNOVATION LANDSCAPE IN HUNGARY, register now to explore the innovation environment in Hungary that promotes socio-political objectives, creates value and efficiently boosts long-term competitiveness. This webinar will examine synergies between EU and national funding, international cooperation possibilities.
Date: 27 November 2019
Time: 14.00 - 15.00 CET / 10.00 - 11.00 BRT
Registration Link: bit.ly/enrichhungary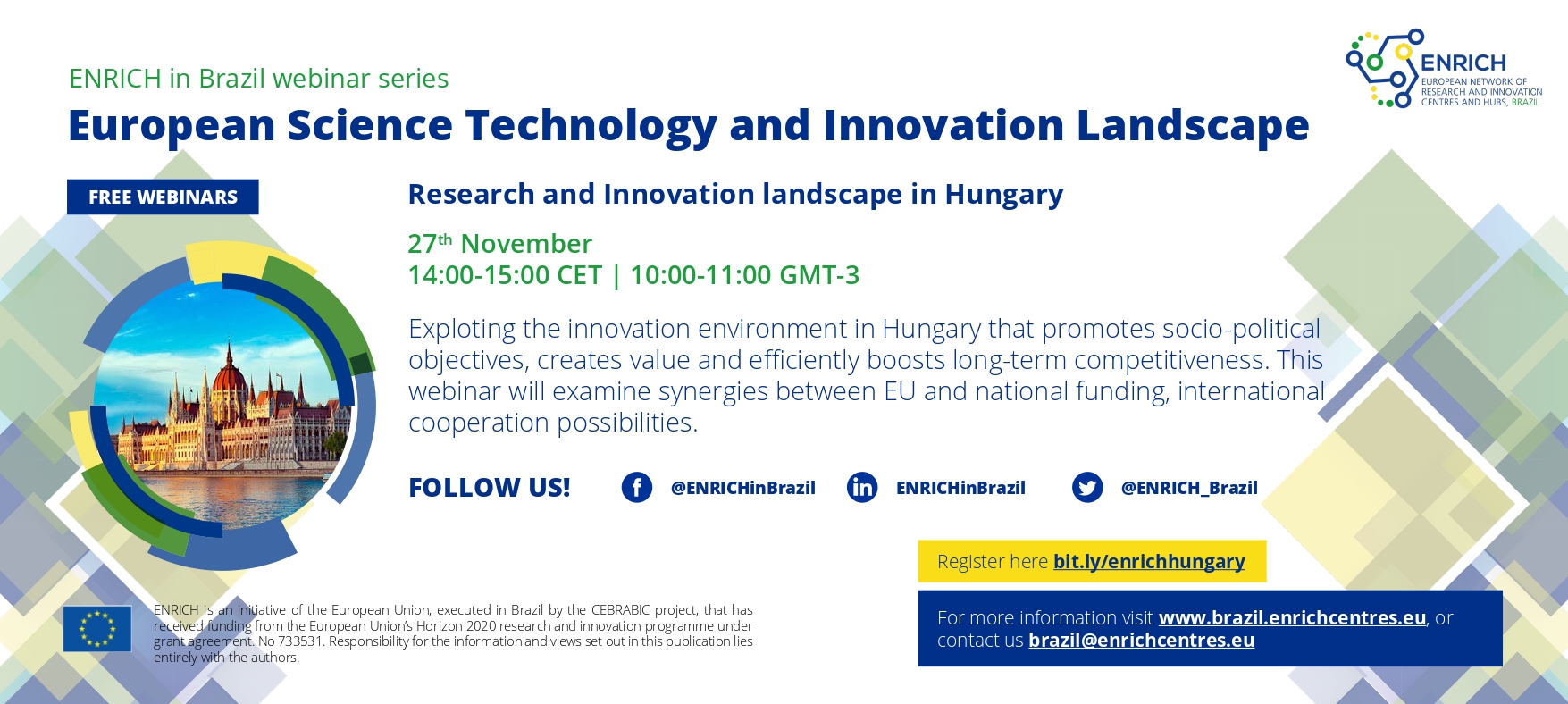 DISCOVER THE LAND OF IDEAS: THE GERMAN RESEARCH AND INNOVATION LANDSCAPE
From the fuel cell to the MP3 player, German inventions have changed people's lives. At the same time, research and innovation (R&I) are what keep a successful economy going and Germany is one of the world's top investors in R&I. The webinar shows who is behind this: universities and research institutes, Federal and state institutions and companies committed to R&I. Enjoy discovering the German R&I landscape!
Date: 4th December 2019
Time: 14.00 - 15.00 CET / 10.00 - 11.00 BRT
Registration Link: bit.ly/enrichgermany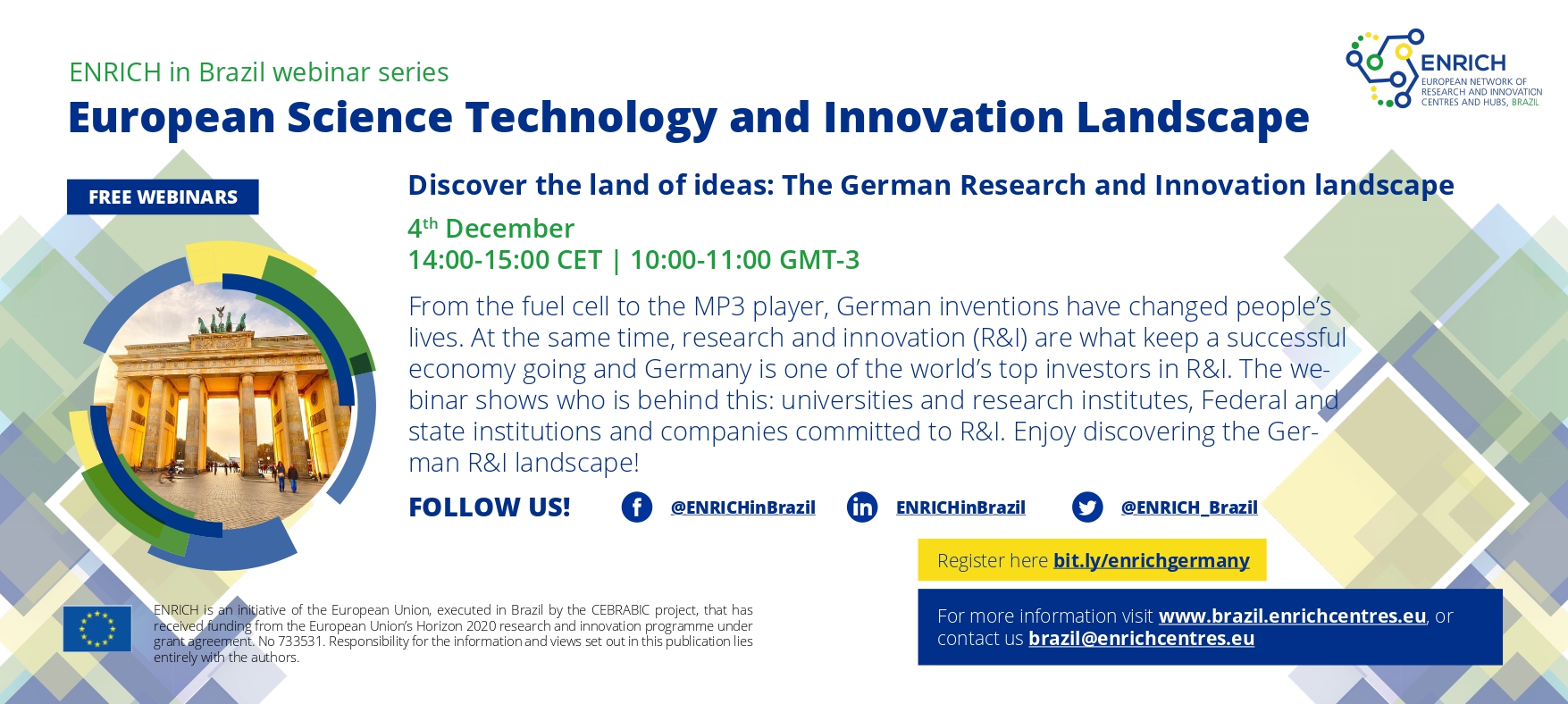 Consortium members
Members:
Project member full name:
Start date:

01 January 2017

End date:

31 December 2020