Name:
ENRICH IN BRAZIL- European Network of Research and Innovation Centres and Hubs
First image: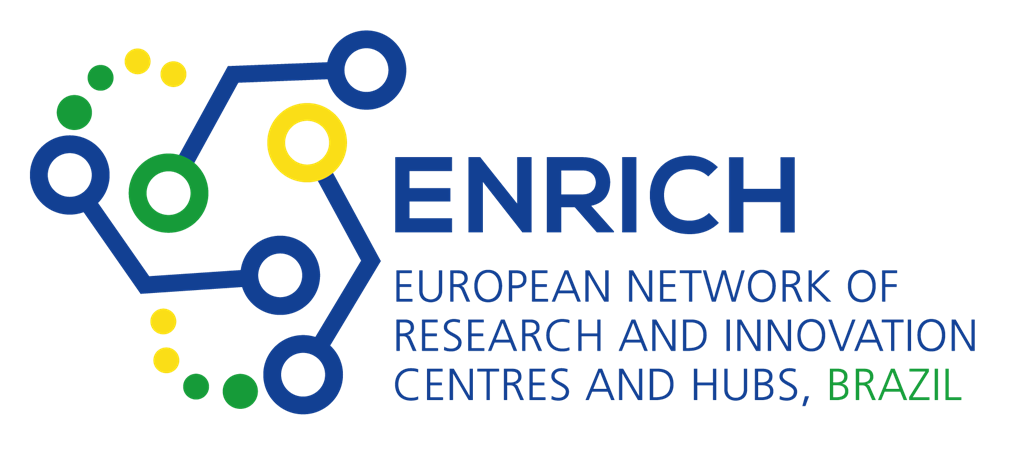 Objectives:
Objectives
Promoted by the European Commission through Horizon 2020, the ENRICH network currently offers services to connect European research, technology and business organisations with three global frontrunner innovation markets: Brazil, China and the USA.
ENRICH in Brazil will encourage a sustainable internationalisation of research and business organisations, as well as promoting cooperation among European and Brazilian research, innovation and business (R&I&B) organisations.
ENRICH in Brazil will be a main hub and contact point for European and Brazilian innovation actors interested in bilateral cooperation. ENRICH provides both support services and technology-related services, thanks to an extensive network of regional innovation hubs and external service providers. Focusing on knowledge-intensive sectors, ENRICH aims to stimulate collaborative research-to-market projects.
ENRICH benefits:
Connects European researchers and entrepreneurs with key players in Brazil
Links Brazilian researchers and entrepreneurs to innovation influencers in Europe
Provides guidance and advice on funding, internationalisation and business acceleration
Increases cooperation in research, innovation and business (R&I&B) between Brazilian and European organisations
Promotes excellence in business, research and innovation
Integrates existing European and Brazilian initiatives, projects and networks
Offers a wide range of custom made services
CONSORTIUM MEMBERS
FHG - Fraunhofer Gesellschaft Zur Forderung Der Angewandten Forschung Ev
ANPEI - Associação Nacional De P&DDas Empresas Innovadoras
CNI - Confederacao Nacional Da Industria
CONFAP - Conselho Nacional Das Fundações Estaduais De Amparo À Pesquisa
DLR - Deutsches Zentrum Fuer Luft - Und Raumfahrt Ev
EBN - European Business And Innovation Centre Network
FFG - Oesterreichische Forschungsfoerderungsgesellschaft Mbh
IASP - International Association Of Science Parks And Areas Of Innovation
RCISD - Regionalis Informacios Es Fejleszto Tudaskozpont Korlatolt Felelossegu Tarsasag
SPI - Sociedade Portuguesa De Inovacao -Consultadoria Empresarial E Fomento Da Inovacao S.A.
SU - Sabanci University
UNICAMP - Universidade Estadual De Campinas

CONTACT

Website: www.brazil.enrichcentres.eu/home
Email: brazil@eucentres.eu
Address:
ENRICH in Brazil
Armando Monteiro Neto building, 12th floor
Brasilia DF, 70040-010,
Brazil
Twitter: @ENRICH_Brazil
Facebook: @ENRICHinBrazil
Activities:
Activities
Become an ENRICH in Brazil associate:
Associates are European and Brazilian organisations and professionals who value the competitive advantages of being part of an international business and innovation cooperation Association between Europe and Brazil.

Are you European or Brazilian working in science, technology or innovation?
Are you looking for international partners and solutions?
Would you like to recieve specialised information and services focusing on business and innovation cooperation between Brazil and Europe?
More details on the application procedure, fees and to apply for membership:
Webinars
ENRICH in Brazil are putting out frequent webinars, which you can access here. The upcoming webinar is taking place on 21st May 2020:
'European and Brazilian Technology & Research Solutions Against COVID19'
The objective is to showcase the technology solutions against COVID19 that European and Brazilian technology-based companies are working on within ENRICH in Brazil network.
Publications
Each month, ENRICH in Brazil release a publication, 'ENRICH Monthly' containing the most recent business and innovation news from Europe and Brazil, alongside public calls and success stories.
Consortium members
Members:
Project member full name:
Start date:

01 January 2017

End date:

31 December 2020