Title:
RECORDING - IASP WEBINAR: "How science parks communicate their mission to stakeholders"
Billede: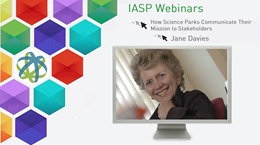 Authors

FullNameWithTitle2:

Jane Davies

Description:
This webinar explored how science parks and areas of innovation communicate their mission to stakeholders. Drawing on her years of experience as CEO of Manchester Science Parks, Jane Davies covered the importance of measuring outcomes, adapting messages to different recipients, the human side of innovation, and how to keep up with today's rapidly changing priorities.
IASP members, don't forget to log in to benefit from your discounted price of 45 Euros when purchasing this video.
Once you have completed your payment, please check the PDF for the link the video. In order to watch it, you will need to download the Adobe Connect software and to register for the platform or log in with your Adobe username and password (NOT your IASP website username and password).