Title:
RECORDING - IASP WEBINAR: "Startups, entrepreneurs and STPs"
Billede: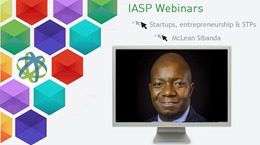 Authors

FullNameWithTitle2:

McLean Sibanda


Publication date

January 2018
Description:
Free for IASP members!
In this webinar, Mclean Sibanda, CEO, The Innovation Hub, explores lessons learned from global STPs and innovation ecosystems on the growing role of science parks in supporting startups to be the engines of tomorrow's economy. Using The Innovation Hub as a case study, he examines how they approached South Africa's need to create jobs and address government service delivery, and explores startups as economic development agents and science parks as catalysts for change.
A PDF containing a link to the recording will download automatically after purchase. IASP members should log in for free download.
About the speaker
McLean Sibanda holds a Masters degree in Engineering from the University of the Witwatersrand (Johannesburg) and Masters of Laws (LLM) (Commercial Law) degree from the University of South Africa (UNISA). He is an admitted attorney of the High Court of South Africa, and is also a registered South African patent attorney. He has wide experience in innovation, intellectual property policy and management, technology transfer and commercialization of intellectual property.
Since 2011 McLean has been Chief Executive Officer of The Innovation Hub (Africa's first accredited science park), a Blue IQ and Gauteng Provincial Government Initiative. Until January 2011, he was Group Executive for Commercialisation with the Technology Innovation Agency, a national government innovation agency, after having spent 7 years with the Innovation Fund, a business unit of the Department of Science and Technology. In the Innovation Fund, he held the roles of Senior Patent Attorney and Acting Executive Director, and was involved with the establishment of technology transfer offices and intellectual property capacity in South African public sector, including the development of patent attorneys for the public sector.
McLean has authored and co-authored a number of scientific and intellectual property articles, including a study on the State of Patenting in South Africa, published by The Innovation Fund in 2007. He has been an invited speaker at both local and international conferences on scientific, intellectual property and innovation matters, including World Intellectual Property Organisation (WIPO) forums as well as African Development Bank Group. He has served on a number of boards of start-up companies and currently serves on the boards of the Council for Scientific and Industrial Research (CSIR) and the Innovation Hub.