Title:
RECORDING - IASP WEBINAR "Level 11 - New Level in Innovation"
Billede: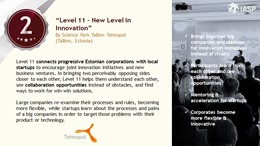 Publication date

April 2020
Description:
Free for IASP members!
Kadi Villers presents "Level 11 - New Level in Innovation" from Science Park Tallinn Tehnopol, 2nd place winner of the 2019 IASP Inspiring Solutions programme..
Level11 connects progressive Estonian corporations with Estonian start-ups to encourage joint innovation initiatives. The programme brings together big companies and startups for innovation initiatives instead of rivalry, creating a unique community of innovation leaders, providing successful mediation, with Level 11 acting as interpreter to explain the opposing expectations to the other party and find solutions, mixing knowledge sharing and raising awareness, networking, hands-on practical events (workshops, seminars) and mentored acceleration for product testing and development.
80 corporations and 70 start-ups were engaged resulting in innovation events, 1:1-matchmaking, innovation audits, company visits and an Innovation Leaders' Club.

Find out more about Level 11 and how it can be replicated in other AOIs/STPs around the world - contact communication@iasp.ws for the link to join the webinar. And don't forget we have another webinar in May, where you can learn about 3rd place winner the Short Circuit Gallery of Public Art, presented by UFRJ Science Park in Brazil.