Title:
Buenos Aires Innovation Park opens to the public
First image: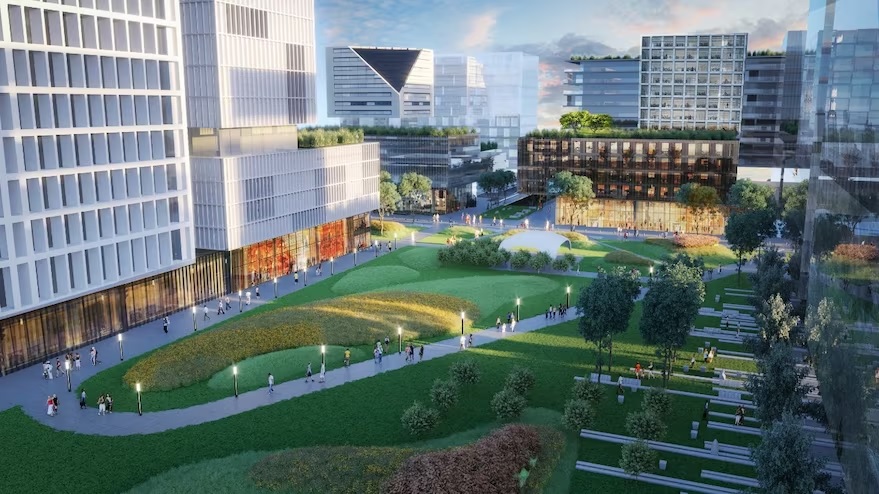 Text:
Buenos Aires Innovation Park, a new innovation district under construction in the heart of the Argentine capital, opened to the public for the first time on 14 May, allowing visitors to enjoy its parks and open spaces as well as live music, children's sporting activities, VR experiences and other tech demos to celebrate the opening.
When fully complete, up to 30,000 people will live, work and study in the Innovation Park, which will be a major tech hub for the city, with a design that focuses on sustainability and smart technologies. Around 45% of the district's public spaces will be parks, complete with bike paths, a dog park, areas for sports and children's playgrounds, and the majority of its buildings will boast shops and restaurants on the ground floor. There are also plans for a network of electric scooter charging points and the option to incorporate an electric transport system within the park, with free public wifi already up and running for anyone who wants to work outdoors!
"The green spaces and plazas are already open to the public," said Luis Bullrich, executive director of the Innovation Park project. "The idea is that local residents can come and spend the day here, and take advantage of the environment here in the park."
It is located on a site close to the city's River stadium, challenge that had to be built into the design to ensure the site could cope with crowds attending concerts and football matches. But planners have designed a system to divide the two access roads into the park in order to close them on event days, and protect the public spaces with stone planters and a retractable fence that can be erected when needed.
The park will have 24 hour street lighting as well as security cameras, but it won't be closed off in any way. "We were always adamant that the sight shouldn't be fenced off. Buenos Aires Innovation Park will be an open public space, like any other city district," said Luis Bullrich.
Knowledge institutions including the University of Buenos Aires, the National Technical University, the Buenos Aires Technological Institute and Torcuato Di Tella University will be based there, as well as companies such as Grupo Sancor Seguros who have a coworking space there, Mirgor, and the real estate developer HIT Cowork.
As well as encouraging people to move in, the priority is to speed up the private construction by the universities: four projects will begin by September, and the team hope to see work completed by the middle of 2025.