Title:
Caohejing Hi-Tech Park in partnership with Ernst & Young
First image: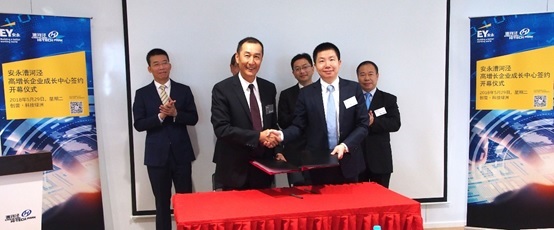 Text:
The IASP member Caohejing Hi-Tech Park today unveiled a program for high-growth enterprises, together with consulting firm Ernst & Young to facilitate the high quality development of startups.
Ernst & Young (EY) will arrange counseling services for selected high-growth enterprises and provide related resources including formulating their business plans and identifying business opportunities and challenges. As part of the agreement, Caohejing High-Tech Park will provide flexible office space, incubation services and the latest science and technology information, as well as preferential policies and development platforms to support the development of high-growth enterprises.
The Caohejing & EY Enterprises Growth Accelerator Center will focus on promising startup projects in areas such as artificial intelligence, innovative medical devices and Internet of Things, which will be the key drivers for the new round of industrial revolution.
Haofeng Lai, General Manager of Caohejing Hi-Tech Park Innovation Center, commented "This partnership is the union of a general practitioner and a specialist. With the support of EY, there will be more customized services which will help local startups to meet the world-class standard."
Established in 1984, Caohejing High-Tech Park now boasts 3,500 enterprises, with 86 Top 500 companies having set up their regional headquarters or research and development centers in the development zone.