Title:
Children predict future inventions for NETPark time capsule
First image: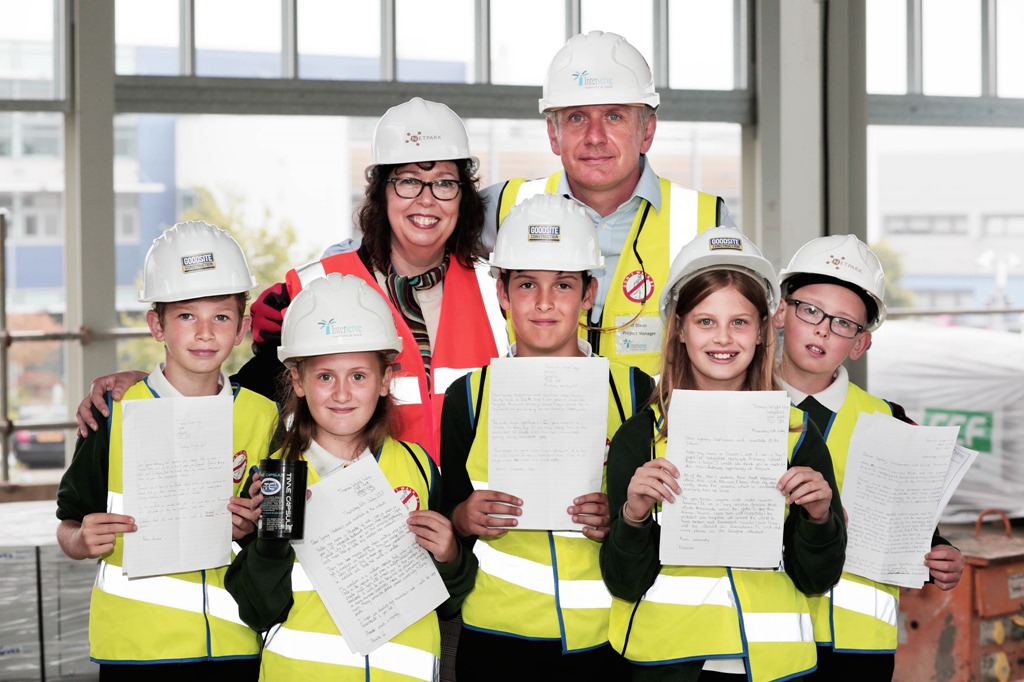 Text:
Children from a local primary school predicted synthetic computer gel skin and a device that absorbs polluted air among other ideas when they were asked to think about what the inventions of the future might be.
Five winning letters with their predictions were chosen and sealed in a time capsule before being buried inside the steelwork of the new £7.6m NETPark Explorer buildings currently in development at the North East Technology Park (NETPark), in Sedgefield, UK, for future generations to find.
The overall winner, Phoebe Wright, won for her vision of a suction capsule which took in polluted air and emitted fresh air. Phoebe, 9, was invited to sign the steelwork and saw her work framed as part of the prize.
Nicole Jenkinson, Year 5 class teacher at Hardwick Primary, said: "The children have loved this challenge and have been so confident in what they've designed. Some have chosen incredibly imaginative 'out there' ideas while others have rooted their ideas in how something can improve their lives. They love thinking outside of the box and they've thoroughly enjoyed it."
The competition was organised by NETPark, an IASP member, and Interserve, the international support services and construction group that is building the Explorer development, providing laboratory, clean room and office space for world class science and technology companies.
Councillor Carl Marshall, Durham County Council cabinet member for economic regeneration, said: "It's fantastic to see that the ethos behind the innovative approach we have to business here in the county is being shared with our schoolchildren; we are enthusing them about science, inventions and the future. We're proud to have home-grown talents working in the county on ground-breaking projects at places such as NETPark and we hope that outreach projects like this may well just inspire the next generation of inventors."
Janet Todd, manager at NETPark for Business Durham, which runs the science park on behalf of Durham County Council, said: "The children have come up with some brilliant inventions and it's great to see NETPark inspiring the scientists and high-tech workers of the future."