Title:
Chungbuk Technopark visits IASP Headquarters
First image: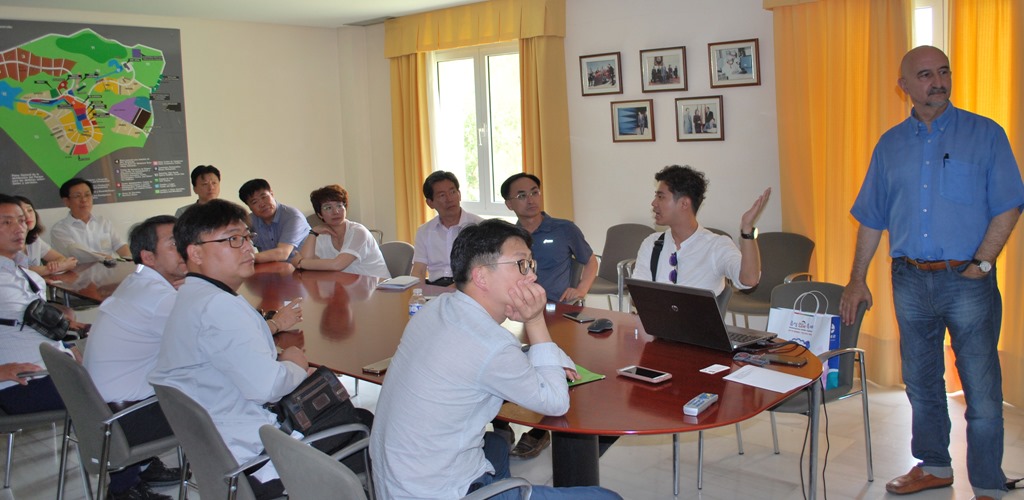 Text:
Representatives of IASP Full member Chungbuk Technopark, South Korea, recently visited IASP Headquarters and the Technology Park of Andalucía (PTA) in Malaga.
The delegation - including Min Sung Gi, Heo Yeonhoi, Kim Dong Sam and Kim Yong Hak, amongst other deputy directors, team managers, officers and researchers - met with the Director General of IASP, Luis Sanz, who offered them an insightful presentation about IASP focused on their specific areas of interest, followed by a technical tour of the science park. They also discussed the importance of being members of IASP, where the voice of each and every member is of great value and can aid in the spread of innovative ideas and collaboration between science parks around the world. The Korean team found the visit highly interesting and are keen to put some of the ideas and knowledge gained into practice.
The Chungbuk Technopark is a non-profit governmental organisation (NGO) that aims to foster biotechnology, computer science and hardware, electronics, energy, electrical power science and technology, health & pharmaceuticals, ICT & communications and assist business incubation. Over the years, it has conducted a balanced regional development by supporting both the local community and various small and medium sized companies in South Korea.
To find out more about Chungbuk Technopark, please visit http://www.cbtp.or.kr.