Title:
Czech Technology Park Brno visits IASP Headquarters
First image: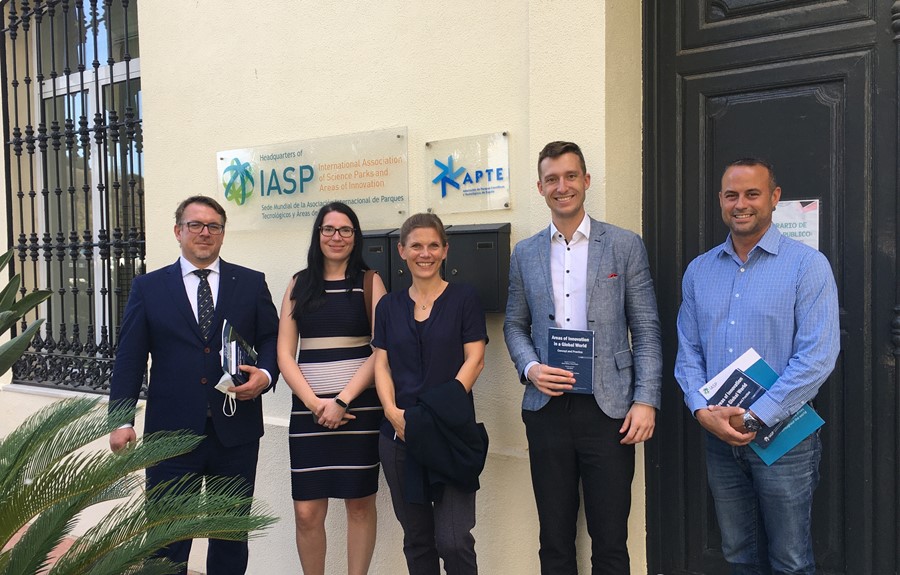 Text:
IASP was pleased to welcome representatives from Czech Technology Park Brno (Czech Republic) at our World Headquarters in Malaga, Spain.
Jitka Sládková, Director of Strategic Development and Marketing and Chair of the Board of Directors, along with colleagues Mr Jiří Machát, Mr Štefan and Mr David Pokorný, met with IASP CEO Ebba Lund as part of a strategic study visit to Malaga TechPark and IASP, learning more about our global network and upcoming activities.
Czech Technology Park Brno is a development project which will ultimately provide 190,000 m2 of mixed-use space for offices, research and light industry along with services and leisure facilities. The site is located in the immediate vicinity of the Brno University of Technology campus, which has four faculties on site, offering advantages to resident companies in the form of qualified workforce of technology graduates, and an opportunity to cooperate on research and development projects with the university.
To date, over 63,000 m2 of rental space have been developed across 14 buildings, now home to over 30 companies employing more than 6,000 people.
To learn more about Czech Technology Park Brno, please visit https://technologypark.cz/en/