Title:
IASP members working together on sustainable urban development
First image: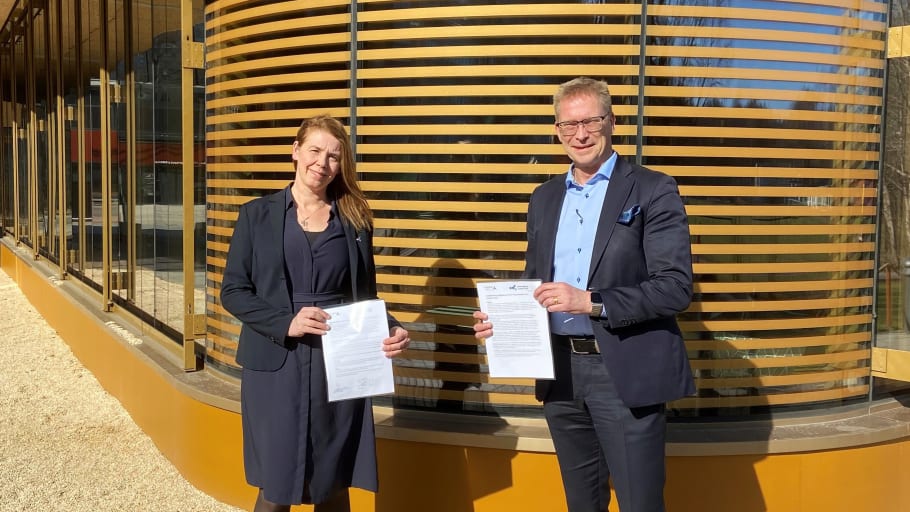 Text:
Two IASP members in Sweden have signed a collaboration agreement to exchange their expertise to support innovation for sustainable urban development.
Johanneberg Science Park and Landvetter Södra Utveckling are already united by a common interest in fostering sustainable urban development in Landvetter Södra, a new sustainable city project. The two partners aim to strengthen the development capacity of stakeholders, helping the city's various components to interact like an ecosystem, for example in the interplay between energy and mobility solutions, or how healthy building materials and climate-smart construction can be linked to both physical and mental health.
"Johanneberg Science Park is a strategically important partner for us in future work to implement innovative solutions in the development of Landvetter Södra. They bring with them previous experience from projects with several of our developers in the consortium, and previous investments that they have been involved in we see can be used and ideally scaled up in Landvetter Södra," commented Maria Ådahl, CEO of Landvetter Södra Utveckling.
"Landvetter Södra is a strategic, ambitious and long-term urban development project. It's an exciting project that further broadens our network, and where our expertise and experience can be used to more quickly scale up sustainable solutions," says Mats Bergh, CEO of Johanneberg Science Park.
The collaboration includes developing a structure for innovation work in the various development phases of Landvetter Södra, helping to reach the UN sustainability goals faster, as well as collaborating with research, disseminating knowledge and creating business opportunities both nationally and internationally, and developing a clear innovation strategy for Landvetter Södra.
The Landvetter Södra project aims to build a sustainable society from scratch. With the keywords innovative, modern, international and human, its vision is to be the city of the future, with 10,500 homes with room for 25,000 inhabitants. The new city offers unique opportunities to use the latest technology and build for "tomorrow's values" and ideals in a society that is sustainable, even on a long-term basis, building a nature-oriented, environmentally conscious city.
Johanneberg Science Park is one of Sweden's leading collaboration arenas for community building, co-creating innovations for a society that is good for people and the environment. They run national and international innovation projects and test solutions for future challenges.