Title:
IASP participates in Nanjing Tech Week 2021
First image: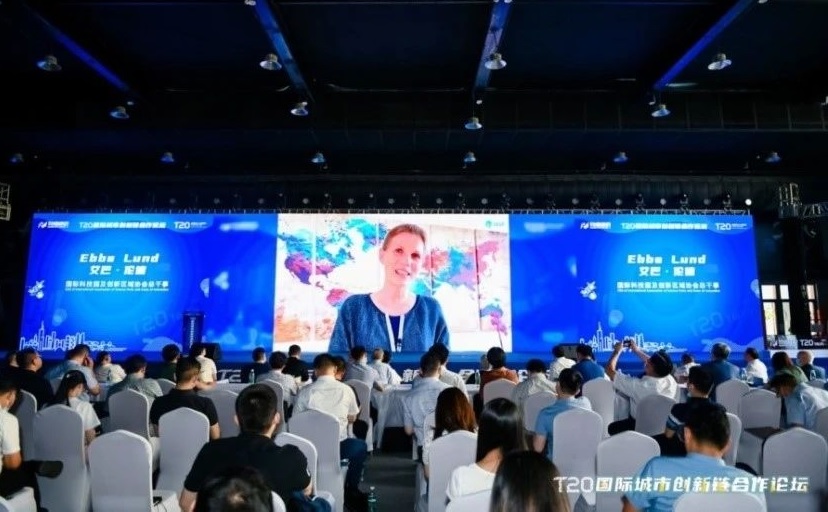 Text:
The Chinese city of Nanjing recently held another edition of its well-established Nanjing Tech Week, with IASP participating in its T20 International Innovation City Forum.
One of the core activities of 2021 Nanjing Tech Week, the forum featured representatives of international smart cities including Nanjing itself; Eindhoven, the Netherlands; Turin, Italy; and Oulu, Finland, as well as the UN coordinator in China for multilateral cooperation for urban development in the Green & Smart Cities Network.
IASP CEO Ebba Lund gave a video speech to global attendees, reflecting on the global and local dimension of innovation and how Nanjing Tech Week combines them both. She also officially announced the launch of a new IASP ICT subnetwork, which will be coordinated by TusPark (Jiangsu).
The ICT subnetwork is a working group for IASP members with a focus on the ICT sector and especially on Artificial Intelligence, IoT, data science, and smart city technologies. ICT is a key sector in many science parks and areas of innovation around the world, some of whom operate with a clear focus on this strategic sector. This subnetwork will help members to connect at a global level, share expertise in how they support their ICT companies, and to enable joint activities and international collaboration among member STPs/AOIs, and create new business opportunities for their companies.
Mr Hao Tang (TusPark Jiangsu) will be the subnetwork coordinator. "Information and Communication Technology connects the world together, and this ICT network connects the STPs/AOIs and their companies in the ICT sector. Together we embrace the next generation of a smarter world," he commented.
IASP Vice President Herbert Chen also addressed the City Forum, sharing an overview of IASP's history and mission with delegates who attended both in person in Nanjing and virtually from around the world.
IASP members, keep an eye on your inbox for an invitation to join the ICT subnetwork!