Title:
IASP representative visits CDTI
First image: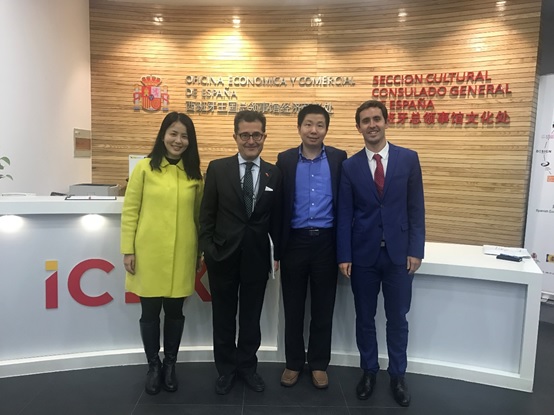 Text:
The IASP Asia Pacific Division President Haofeng Lai, (Caohejing Hi-tech Park, China) recently met with a representative of the Center for the Development of Industrial Technology (CDTI) to present the work of IASP and explore potential collaboration opportunities.
During the meeting in Shanghai, Mr. Lai introduced IASP and its mission and services to Carlos Quintana who explained the work of CDTI and its joint programme with the Torch Center.
CDTI is a public business entity, answering to the Ministry of Economy and Competitiveness, which fosters the technological development and innovation of Spanish companies. It helps companies to exploit technology they have developed on international markets, and provides funding for technological promotion, innovation projects and technology transfer. In China, CDTI works with the Torch Center on CHINEKA, a Sino-Spanish bilateral Technology Cooperation Programme to promote joint technology projects between entities from China and Spain via industrial research, technological development and innovation.
The meeting also explored potential future collaboration between CDTI and IASP, and building new pipelines for CHINEKA by working with Caohejing Hi-tech Park. "The IASP network could be very helpful to CDTI, especially it has the Headquarters in our mother land and we will be happy to work closely with Caohejing Hi-tech Park on promoting the CHINEKA programme," Mr Quintana commented.