Title:
IASP Space and Sustainability subnetworks hold first meetings
First image: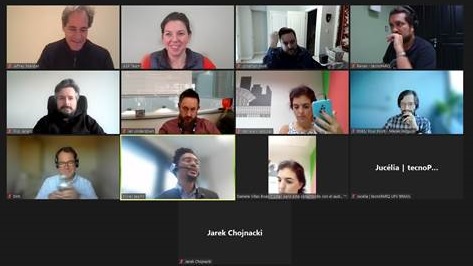 Text:
IASP's two new subnetworks, IASP Space and IASP Sustainability, both held online kick off meetings in January, giving members the first chance to meet as a group and share ideas.
IASP subnetworks are groups of IASP members that share a common interest in a sector or field of activity. They provide STPs and AOIs with further opportunities for international collaboration, to share professional expertise, and to build flexible working groups under the IASP umbrella.
Opening up opportunities in space
Coordinated by Olivier Zephir (Technoport, Luxembourg) and David Marsh (George Washington Carver Science Park (GWCSP)), headquartered in the USA, the IASP Space subnetwork provides a platform to facilitate collaboration, expertise sharing, and joint efforts in a broad variety of space activities and related specific environments, such as microgravity, cis-lunar space, and the lunar surface.
Members of IASP Space met on 17 January for a session focused on exploring commercial space collaborations and opportunities for in-space facilities. They were joined by robotics company Fourpoint, who shared their experience of how their solution can be applicable in space, and talked about their collaborations for operating autonomous platforms with terrestrial and space applications.
Members will work together to make sure the companies based in their parks can take advantage of opportunities to work in space and to access GWCSP hardware on the International Space Station.
Embedding international best practices in sustainability
The IASP Sustainability subnetwork held its first meeting on January 26, led by Nick Beesley of Surrey Research Park (UK) who also coordinates the group with colleague Tim Riches. They gave an overview of sustainability goals in the UK and the initiatives in place at Surrey Research Park, before handing over to four members to share their experiences.
With presentations from Thailand Science Park (Thailand), PIIT Monterrey (Mexico), Lakeside Science and Technology Park (Austria) and Area Science Park (Italy), it was a great opportunity to learn more about best practices and climate goals in different countries, as well as the barriers to achieving them. Common themes arose including mobility, behavioural change necessary to make a real impact, on-site energy efficiency when it comes to lighting and heating buildings as well as conserving water, protecting local biodiversity and reducing waste, as well as innovative plans unique to each location.
If you'd like to join one of these subnetworks, please contact us at communication@iasp.ws.