Title:
Now open: IASP Inspiring Solutions 2018!
First image: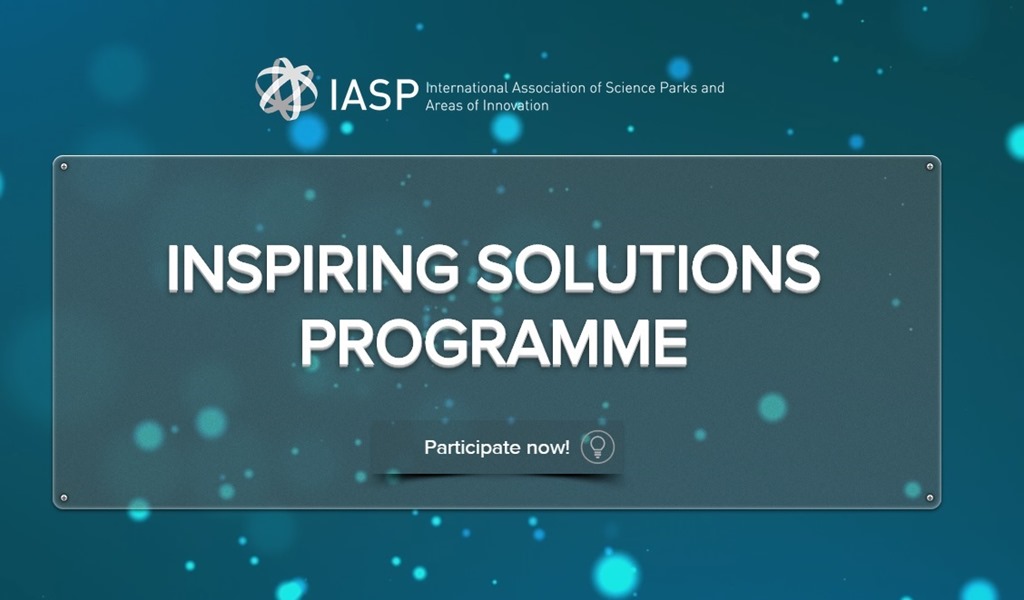 Text:
Inspiring Solutions is our knowledge-sharing initiative which recognises excellence within the world of science parks and areas of innovation and gives visibility to the best new solutions and initiatives.
The programme is looking for innovative ideas, solutions, or projects related to improving the performance or efficiency STPs and AOIs.
Inspiring Solutions can be from any area of activity, either for the park itself or for its resident companies. They might be related to the services provided to customers; or new ideas in business incubation, spin-off programmes, facility management, or marketing of the park; or maybe they involve new ways of approaching networking, internationalisation, training, or soft landing. Whatever problem it tackles, IASP wants to learn from what science parks and areas of innovation are doing to improve the overall performance of their organisation.
Previous winners
In 2017, the IASP Inspiring Solutions programme attracted 27 entries from science parks and areas of innovation all over the world. 10 were shortlisted, and IASP members voted for the three winners. They were:
1st place: Bilkent Cyberpark, Turkey, for B2B Matching Methodology
B2B Matching Methodology is a business development programme that facilitates the creation of international partnerships through preparing detailed company profiles for all participants and sharing them in advance to ensure ideal matches. It helps high tech companies to strengthen their global presence and access international markets.
2nd place: Mjärdevi Science Park, Sweden, for Coderdojo Summercamp
Coderdojo summer camp inspires children to take up programming, connects young people with innovative companies at Science Park Mjärdevi and creates summer jobs for students as well as developing future talent for companies in the park.
3rd place: Bizkaia Science and Technology Park, Spain, for A challenge for the park
A challenge for the park is an open Innovation approach to improving Bizkaia Technology Park, where resident companies and individuals submit ideas. It provides insight into companies' needs and fosters collaboration and networking within the park.
2018 winners will once again be chosen by IASP members, and announced on stage at our upcoming World Conference in Isfahan, Iran, 2-5 September.
Visit www.iaspinspiringsolutions.com to read more about our past winners and what we are looking for, and to share your bright ideas!