Title:
Plans for Innovation Park AI project in Germany taking shape
First image: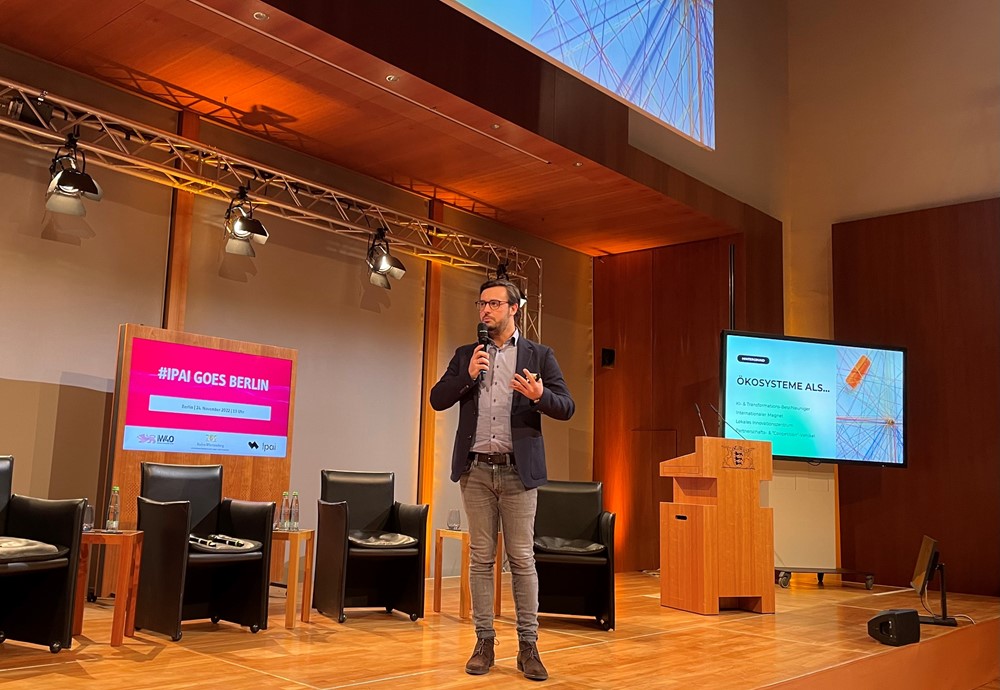 Text:
The team behind the Innovation Park for Artificial Intelligence (Ipai) that is under development in Heilbronn, Germany, recently presented their plans to create an influential European artificial intelligence ecosystem that will bring together companies, applied science and research, future talents and public sector players.

Conceived as an internationally visible centre for innovation and value creation, Ipai will make an important contribution to Baden-Württemberg, taking on a leading global role in exploiting the enormous economic potential of ethically responsible AI. As a major AI lighthouse project, it will also set standards for climate protection and sustainability.
IASP is pleased to have been involved and to share our expertise in the planning stages of the project, and CEO Ebba Lund joined the Ipai presentation event in Berlin where she participated in a panel discussion on "Interdisciplinary innovation ecosystems as "boosters" for AI-driven value creation" with Rebecca C. Reisch (Cyber Valley) and Joerg Bienert (KI Bundesverband).
"It was a pleasure to join the park's presentation in Berlin and feel the enthusiasm of local authorities, partners and of course the park management team. New parks and innovation initiatives is always good news that enrich innovation ecosystems and collaborations worldwide, and we look forward to following the next steps of IPAI's journey," she commented.
While it is still in the development stage, some services are already almost ready to go live: the co-working space and interactive meeting rooms will be available from September on the Ipai Campus in the Wohlgelegen Future Park. Workshops and training events focusing on practical uses of AI are already on offer too, helping to create a sense of community in the sector before the park even opens its doors. Developers are also talking with bigger, more established companies who could benefit from applied research facilities or sandboxes on the site.
When fully operational, the focal activity in Ipai will unfold along the thematic clusters, which reflect the economic and scientific strengths of Baden-Württemberg in general and the Heilbronn-Franconia region in particular. Research, AI development and entrepreneurial use cases are brought together in clusters of production & logistics; trade & distribution; public service and services of general interest; and life sciences.
Find out more about the new park and follow its development progress at https://ip.ai/en/.