Heading:
Women in Moscow industry
Publication date - real:
29-06-2021
User info - details - for blog detail layout:
First image: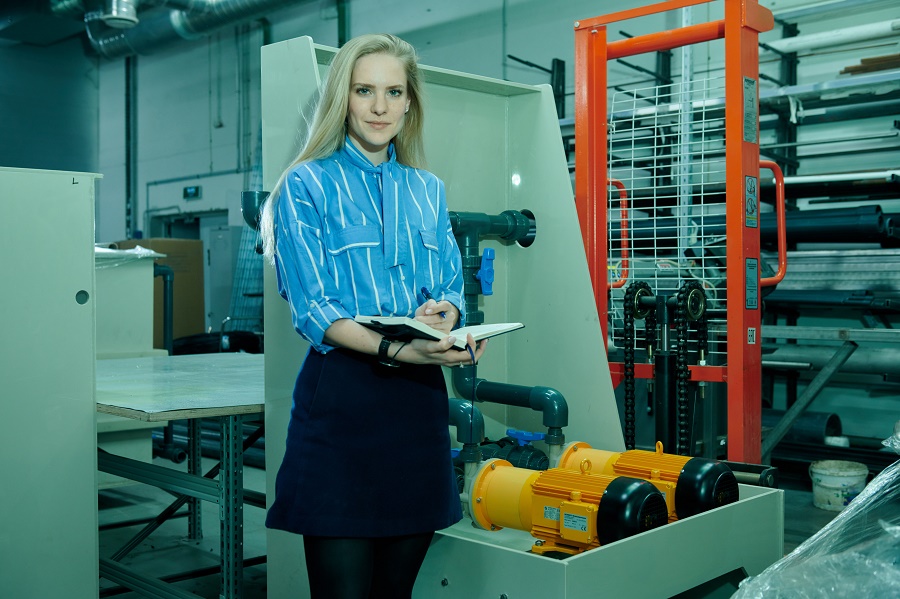 Long text:
Meet some of the women responsible for the engineering wonders created in the SEZ Technopolis Moscow!
In spite of stereotypes about technology-related «non-feminine» type of work, they conduct scientific researches, develop innovative technologies, control complex devices as well as manual technological operations that require high accuracy, and dream of their own scientific discoveries and do everything possible to make their dreams come true.
Svetlana Dorofeyeva, Researcher, LLC BUTIS
"Since high school I knew that I had technical mindset, I liked algebra, geometry, physics. I graduated with a degree in «mining engineer-geophysicist». However, after my graduation labor market offered work only in Taiga requiring boys mainly. Girls were able to work as caretakers of geopolitical funds and digitize old maps.
I have always been attracted by more "live" professions, where everything depends on you, and you can track the process from the beginning to the finished product. I have been working in the company "BUTIS" for 8 years, I have gone from a technician to a researcher. My work is related to research on improving the temperature stability of SAW filters, which implies the integration of existing knowledge of device design and modern discoveries in the field of new materials.
One of the clear advantages of our company is a complete technological cycle. This makes it possible to control the process of designing and manufacturing the filter, from calculating the topology on the computer screen to passing the filter tests in the finished case. The most satisfying moment starts when it comes to measuring the received samples: you turn on and see the amplitude-frequency description on the monitor. At such moments I have only one thought in my head - "it works!"
I am continuing my education, I have graduated from the MIREA post-graduate course and now I'm writing Ph.D thesis. Quite often, people are surprised with my choice. And when they learn that I help schoolchildren with mathematics, and I like it, they joke that I am the only person who has come in handy for the special product after school. An engineer girl is perceived as something unusual. Although in the modern world more and more women hold successful positions, managing large projects in technical and industrial fields, occasionally you face stereotypes. I think for achieving success you need to be decisive and brave enough to try new things."
Anastasia Polyakova, Head of Ecology and Utilization Department, Ecotechprom Plant, Ecopolis Corporation
"I have a degree in ecology and I've been working in this field for more than 10 years. My job is my personal best. I started working 10 years ago. Today I am the head of the ecology department. Career growth was not easy and not fast, but I managed to go through this difficult path and get a rewarding experience. I am grateful to every enterprise where I've worked.
In my spare time, I travel with friends. I also remember about my health - I really like swimming, so I go to the pool.
Volunteering has a special place in my life. I am a member of the Reutov volunteer movement. During the pandemic, many people found themselves in a difficult situation and I realized that if I can help someone, I shouldn't stand by. We help older people and people in difficult situations: we deliver food, medicine to seriously ill patients, help with paperwork.
Several of my colleagues know about this activity and everyone has a different attitude towards it. Volunteering can hardly be called a "hobby", but it helps you see the world beyond the boundaries of your life. I confess that many things became a kind of discovery for me. This "reboot" really helps me find new solutions in work."
Alexandra Logacheva, designer in Orthomoda
"I joined the company in 2015 right after graduation, where I managed to create my collection for the Shoes Style competition, which won first place.
Today I continue to do what I love, which benefits both adults and children. I love yoga. I know how to tune in to a working mood on Monday morning or, on the contrary, to relax on Friday evening. All my colleagues know about my hobby. Sometimes we go to classes together or during lunchtime we do a set of exercises right in the office.
When I am asked about personal records, I immediately recall one difficult case with a customer, when it was requested to develop a model of shoes for a person with a shortening of the lower limbs by more than 10 cm made of python skin. It was an unusual and very difficult order, but we coped with it. We helped our customer become happier. Such projects are always inspiring."
Marina Ivannikova, engineer in Elvis
"I have not always been an electronic engineer. After school I studied light industry and received the specialty "Tailor of light women's dress." I sewed for myself, sewed to order for friends, worked part-time in a photo studio, taking photos for documents.
I didn't have a complete amount of knowledge. But when I heard about MIET, I decided to go there. I left everything and took the train to Moscow. I studied diligently, tried to delve into all these laws, theorems, tried to memorize the formulas. And after a few months she tested her strength at the entrance exams. Of course, the miracle did not happen, and I failed the exams. But my zeal was enough to enter the preparatory department, where I studied for a year. And later I entered MIET.
I graduated from college and started my career as a software tester. Later I got a job at the Elvis Scientific and Production Center and have been working in the company for 8 years.
Gradually, creativity returned to my life and I even began to push my colleagues to do needlework. We made interior items for our office, for the holidays we tried to give employees from other departments not just "sweets in a box from the store", but decorated with all our hearts.
Now I have two daughters and I help them with crafts for school and kindergarten, I sew all the outfits for morning performances myself. I weave jewellery, embroider brooches, knit - it calms, helps to distract from everyday work."
Alexandra Kuznetsova, Head of Projects, VDK company
I joined the company in 2015, right after graduating from the academy. After working for a year surrounded by engineers - smart and interesting people - I decided to go to the second higher technical degree. The first one was economic, international. It was at this time that I was reading the book Atlas Shrugged. The image of a girl engineer on the railway, young, smart and strong, inspired me a lot. For three years she combined work with study, developed as a professional. She was an assistant to the project manager, then she started to manage projects herself. I like that every time you need to look for a new approach to the implementation of the idea. Each customer means new communication, new contacts, new psychological connections.
Besides I am an actress of the "MOST" theater (Moscow open student theater). Once it originated at the theater of Moscow State University, now it is a state repertory theater. I act in a couple of plays - children's play "Peter Pan" and the New Year's program "Cabaret. Dreams on the Patriarchs ". When you go on stage and see burning children's eyes, you understand that you cannot lie to them. And in order to make them trust you, you yourself have to believe in what you do on stage. And the New Year's program inspires and creates an atmosphere of a holiday.
But still, I understand that I cannot devote myself only to the theater. I need to do something that will benefit people. I mean the equipment of our company, which helps to make nature cleaner."
Olga Voronova, Head of Corporate Communications, ABB Russia
"I have been at ABB since January 2020. In my work, I appreciate dynamics, new challenges, the opportunity to apply a creative approach and an excellent team that met me in the company. ABB plans to create 20 divisions - leaders in electrical equipment, robotics, automation and electric drives, endowed with greater responsibility for doing business. And the new task of corporate communications is to be a connecting link, to maintain the unity of the brand.
Family means a lot to me, but I'm not a coach potato. My son is 19 years old, we go downhill skiing, looking for common interests, setting an example for each other. I think this is important. I can't call myself a housewife. Maybe at 92 years old I will cook borscht and not leave the apartment, but not now. My life is filled with movement. In order to join ABB, I moved from St. Petersburg to Moscow. Once every two weeks, I return to my city to spend at least two days with my family. I think you need to use the opportunities that life offers. As Jack Nicholson's hero used to say, "At least I tried it."
In 2016 my son and I climbed Elbrus. My father went in for mountain skiing and mountain climbing in Soviet times. And I always wanted to visit the mountains, but had health limitations. Therefore, when the opportunity arose, I immediately wanted to take it. It was such an amazing experiment!
It was a commercial ascent. This is very different from what real climbers do, but for us it was a physical and mental challenge. There were moments when it seemed that there was no strength to go further, we encouraged each other and, as a result, ended up at the top. I think this is why it is worth going to the mountains: you will not get such an impression and inner experience either when watching a film, or when reading the most exciting detective story!"
There are no comments