Heading:
Big Events & Urban Regeneration at EXPO DUBAI 2020
Publication date - real:
29-10-2021
User info - details - for blog detail layout:
First image: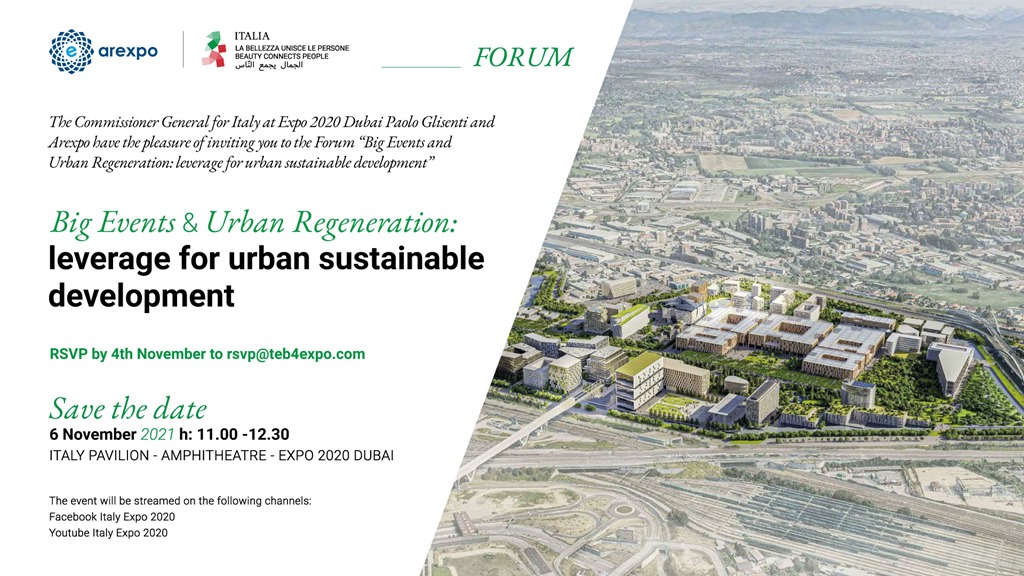 Long text:
Big events like Universal Exhibitions provide a rich opportunity to promote science parks and areas of innovation as a vehicle for smart urban regeneration, and also an opportunity to redesign local areas once the events are over. As an area of innovation developed on the Expo Milan 2015 site, Milano Innovation District - MIND is proud to be organising several events at Expo Dubai exploring these key themes, with the highlight being a forum on "Big Events & Urban Regeneration: leverage for urban sustainable development".
Urban regeneration as driver of development and integration of the urban fabric and its communities is a strategic key to redesigning local areas after major events (Olympics, Universal Exhibitions, International Festivals, etc). The new innovation districts and science and technology parks, centred on the development of the quadruple helix of innovation (public institutions, higher education and research, businesses, and civil society), can be effective models for urban regeneration: innovation thus becomes the key for new urban hubs, naturally adapted to active participation in international networks.
Sustainable urban regeneration thus becomes the driver of planning for major events and their legacy in the local area: MIND Milan Innovation District is a virtuous example where a major international event such as a Universal Exhibition extends its legacy in a sustainable way and with a long-term perspective.
We warmly invite IASP members to join us in the Amphitheatre of the Italia Pavilion on the 6th November 2021 – h: 11.00 -12.30 to participate in this forum, or to view it via the Facebook or YouTube livestreams.
MIND is also hosting a discussion on "Big events at urban level: opportunities generated in the territory" at Innovation House, powered by Regione Lombardia and the Fondazione Politecnico Milano on November 4th, exploring the legacy that a major event leaves and the opportunities it generates in the local area. We will talk about MIND as the first urban and human regeneration project by Arexpo in an area where a major event has taken place, the potentials of a recently infrastructured area; strong points to be discovered and promoted; the successful model to be replicated; and the guiding vision for the area. And no less important: the legacy left by the major event that has to be carried forward, expanded, and implemented in the local area. There is not one, but many diverse strategies to devise.
We will also be examining the role of big events in sustainable urban development, in an interactive talk on "The regeneration of EXPO 2015: Leverage for urban sustainable development" on November 6th.
A meeting of the world's foremost operators in urban regeneration and technological innovation, it will be a forum for sharing the successes, failures, difficulties, challenges, and surprises from major redevelopment works around the world, and to hear about upcoming projects, new calls to action, and a new concept of innovation to inform future developments.

There are no comments