Heading:
Innovation and its philosophical roots – spring meeting in Heidelberg
Publication date - real:
29-04-2018
User info - details - for blog detail layout:
First image: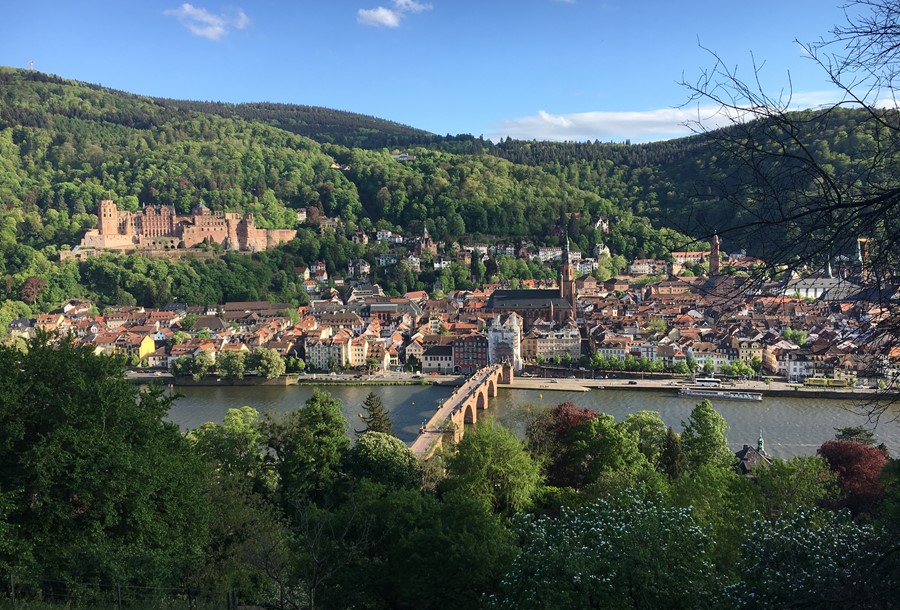 Long text:
Not every city can pride itself on having a Philosophers' Walk. The one in Heidelberg has such stunning views of the city and the river Neckar, that city planners can't help but being inspired and feeling an urge to contribute something new to the city's urban spaces. That could be one of the reasons behind the ongoing transformational process happening in Heidelberg, in synergy with local innovation professionals, knowledge workers and the wider community.
The Philosophers' Walk (Philosophenweg) got its name at the beginning of the 19th century when university professors and poets like Hölderlin and Eichendorff strolled the vineyards on the river banks. A perfect place for intellectual debate and incubating new ideas – something still very present in the energetic local startup scene, as well as in Heidelberg's mature companies and key players in the field of life sciences and biotechnology.
IASP members had the privilege of exploring Heidelberg's innovation ecosystem firsthand when we gathered for our European Division event this month. Organised by Heidelberg Technology Park, we enjoyed a content-packed programme under the theme "Vitalizing communities via TechParks and Clusters" with a full day of presentations at the technology park, and a second day of onsite visits to innovation sites around Heidelberg.
André Domin, CEO of Heidelberg Technology Park and President of IASP's European Division, guided us through the many expert contributions, centred on four areas: clusters and collaborations, community building, city development and startup support.
Presentations covering European science park experiences, startup stories, city planning, digital expertise and clusters in biotechnology and printed organic electronics provided material for a fruitful discussion, enriched by the many science park colleagues among the audience, who added to the knowledge sharing with examples from their own science parks and cities.
These topics were elegantly illustrated by hands-on examples on the following day's innovation tour, where we got to see many of the projects discussed, allowing a better understanding of, for instance, InnovationLab, presented by CEO Luat Nguyen on day 1 and opening its doors to attendees on day 2. It offered a dive into the world of printed organic electronics, which required translation for laymen when our guide explained the different lab equipment. Printed organic electronics: a truly thrilling concept that will bring entirely new applications of electronics into our everyday lives.
Sustainability is the central philosophy of the urban live/work zero-emission district Bahnstadt, where we admired the iconic SkyLabs and SkyAngle buildings on its technology and science campus. Other highlights were the construction site of Heidelberg Innovation Park, which is being built on the former military site "Patton Barracks" and the International Building Exhibition, IBA, whose team was busy getting ready for its midterm presentation that will display results and projects at the Mark Twain Center in one of Heidelberg's conversion areas. One of these projects is PHVision, a future "knowledge city" of Heidelberg, that was introduced to us during the presentations by Managing Director of IBA, Prof. Michael Braum. He talked about his idea of building a residential area with houses especially designed to be both a living space and a place to incubate startups: the perfect hybrid space where young entrepreneurs can both live and work. Of course these housing/incubation units would benefit from the vicinity of other such houses and the overall infrastructure of the knowledge city.
The visit to IBA added additional perspectives to the city's dialogue on urban spaces – also relevant to science and technology parks who are increasingly involved in their communities and hybrid spaces for their residents.
With our focus on science parks' role in city development, community building, company support and partnerships, I can say that the innovative and sustainable Heidelberg examples all added to the valuable take-home messages and ideas that we gathered during the event.
The charming old city adorned by trees in spring colours of course made it all the more attractive – and the Philosophers' Walk was worth the climb, providing a great final snapshot of the city and a link to past thinkers after two intensive days debating our fast-paced present and preparations for the future. Knowledge is a continuum sprinkled with fertile disruptions.
There are no comments