Title:
$1 million award for High Tech Campus company
First image: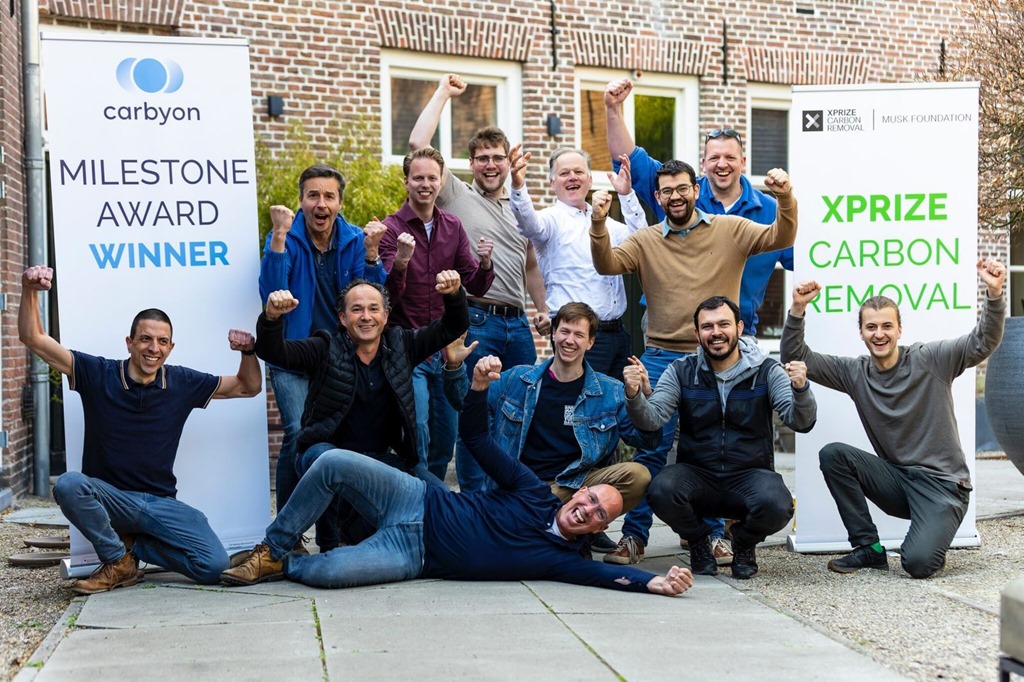 Text:
High Tech Campus Eindhoven-based company Carbyon has recently won a $1 million Milestone Award in the XPRIZE Carbon Removal competition from the Musk Foundation, attracting media attention from all over the world.
The company was born at HighTechXL, Eindhoven's deep-tech venture building program, considered the European deep-tech hub in terms of advanced technology. It's a community bringing together numerous startups and SMEs, as well as multinationals Philips and ASML.
Carbyon was one of 15 teams awarded $1 million each in the competition on Earth Day by Dr. Peter Diamandis' LA-based non-profit XPRIZE Foundation. Funded by the world's richest man Elon Musk, this XPRIZE category put up $100 million to create a circular carbon economy. That $100 million prize for carbon removal is "the largest incentive prize in history fighting humanity's biggest problem," according to the foundation.
The goal of XPRIZE is to encourage and help scale up efficient climate innovations to reach the target of 10 gigatonnes per year of carbon removal collectively by 2050. The solutions that were submitted were scientifically evaluated based on several criteria, including the amount of CO2 removed, life cycle analysis of the removal process, energy efficiency, the carbon footprint and storage capacity.
Carbyon is developing equipment to capture carbon from the air. This new capital is the best kind of funding for them because XPRIZE takes no equity for that $1 million, and the team will use it to further develop their working prototype. The $1 million catapults Carbyon into a more secure position financially and allows Hans to reward his team for their loyalty and perseverance. Founded in 2019, it wasn't until 2020 that the Carbyon team was getting paid, with some giving up previous jobs to work full-time on the carbon removal technology.
The win has also attracted media attention for HighTechXL and Eindhoven, too, with a camera crew from XPRIZE scheduled to come to Eindhoven later in the year, in addition to features in TechCrunch and Innovation Origins.
"More and more now, they ask 'Are you just on your own, working in a garage, so to speak? Or is there a broader community?' And this is where it gets interesting We need to make sure they know it's more than Carbyon," said CEO Hans De Neve, who invented the carbon removal technology. "It's HighTechXL. It's Philips. It is all of the ecosystem. So, we should really make sure that XPRIZE is (covering) not just what's on this table here, but Eindhoven. It's a very nice story and it's a true story. Because we wouldn't exist without it - HighTechXL or the ecosystem."
To find out more about High Tech Campus Eindhoven, visit https://www.hightechcampus.com/.