Title:
Big Data in focus at Espaitec
First image: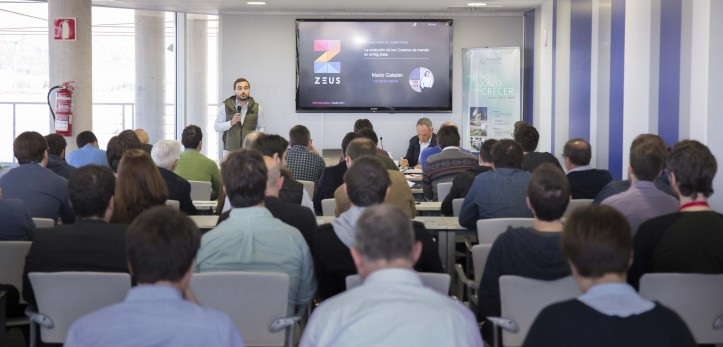 Text:
Almost 100 people recently gathered at IASP member espaitec for an event that focused on Big Data technology and introduced macrodata research and solutions developed at the Universitat Jaume I (UJI).
During the opening ceremony Jesús Lancis, the Vice-Rector of Research and PhD studies at the UJI, stressed the importance of such events to establish contact between the academic world and the business world. This session is the first of a series of transfer events bringing together UJI research groups and the business fabric of the city of Castellón which will take place throughout 2017.
Speakers presented some of the research conducted at the UJI, including the value of macrodata and its capacity to facilitate business decision-making. Rafael Berlanga, a professor from the UJI Department of Computer Languages and Systems, stressed the close relationship between Big Data and artificial intelligence as a market niche for emerging startups.
José Salvador Sánchez Garreta, professor at the New Imaging Technologies Institute, presented new research about the application of automatic learning to the analysis and assessment of financial risks, where Big Data applications can predict financial failure or bankruptcy. Other speakers addressed Industry 4.0 and the need for companies to continually adapt their planning systems and create more flexible manufacturing.
Espaitec companies also played a leading role at the event, including fintech startup TheLogicValue who described their experience of selling macrodata solutions to banks, and IoTsens who presented a platform to manage smart cities using solutions that collect and exchange data that connects the physical world with computer-based systems. The CIO of Zeus -Smart Visual Data, presented a new all-round balanced scorecard concept, while Nayar Systems presented industrial machine learning developments that apply to the lifting sector.
To find out more about espaitec and their resident companies, visit http://espaitec.uji.es/en/.