Title:
Feevale Techpark signs MoU with Canadian cluster
First image: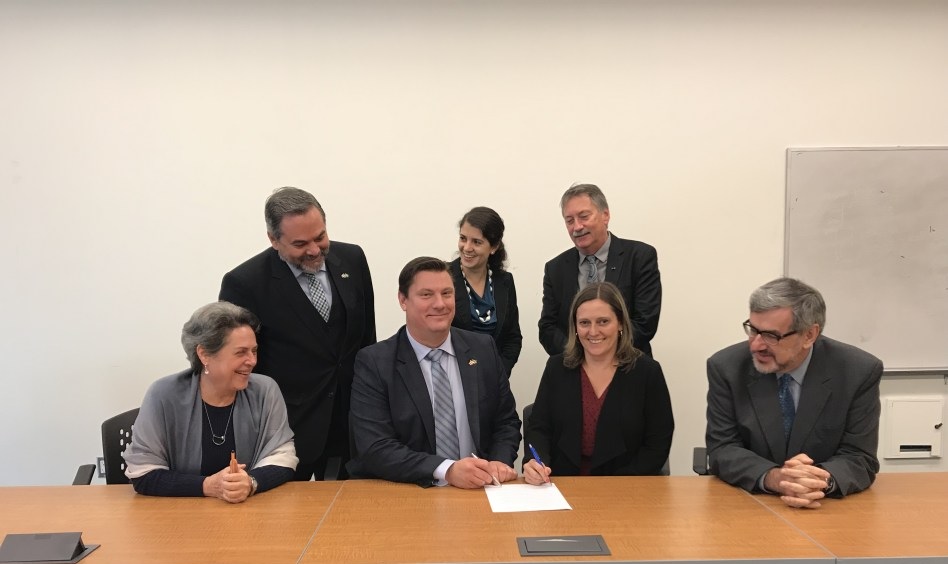 Text:
Feevale Techpark has signed a memorandum of understanding with the Innovation Cluster – Peterborough and Kawarthas, Canada, to promote support and growth between their incubators.
Based in Rio Grande do Sul, Brazil, the Feevale Techpark focuses on innovation and entrepreneurship, contributing to local and regional development while promoting technology, business and entrepreneur advancement. The Innovation Cluster is in an international partnership with the incubator, providing a closer connection between each of their clients.
"At Feevale Techpark we believe companies need to be born global, and we strongly encourage them to expand their markets and build strong relationships," says Daniela Carolina Eckert, Executive Manager of Feevale Techpark. "This agreement contributes by creating opportunities for these connections to take place in both of our ecosystems."
The partnership between The Innovation Cluster and Feevale Techpark, a Full IASP member, allows both organizations to work together to create innovative ideas which will strengthen entrepreneurship and technology innovation globally. Their companies will now have access to connections in marketing, products, services and more throughout Brazil and Canada.
As a business association with the objective of fostering stronger relations between Brazil and Canada, the Brazil-Canada Chamber of Commerce (BCCC) was instrumental in facilitating this partnership between the incubators.
"Joining together two strong influencers in the tech startup world will help foster successful entrepreneurship between Brazil and Canada, and create new innovations," says Marcelo Sarkis, President of BCCC.
Through this partnership, the Innovation Cluster and Feevale Techpark will benefit through exchanging each other's best practices, including introductions in networking groups and recruitment initiatives provided by local organizations, national, regional and local government agencies, research and developmental funding agencies, local universities, and more.
"Through this partnership, the Innovation Cluster and Feevale Techpark will be able to create new products and ideas crucial to the development of each incubator's economic growth," says Michael Skinner, President and CEO of the Innovation Cluster. "Connecting Peterborough entrepreneurs with a technology institution in Brazil will help drive future innovations."
To learn more about Feevale Techpark, please visit www.feevale.br/en/feevale-techpark.