Title:
Focus on Best Practice: Shanghai Connectory Co-incubation Programme
First image: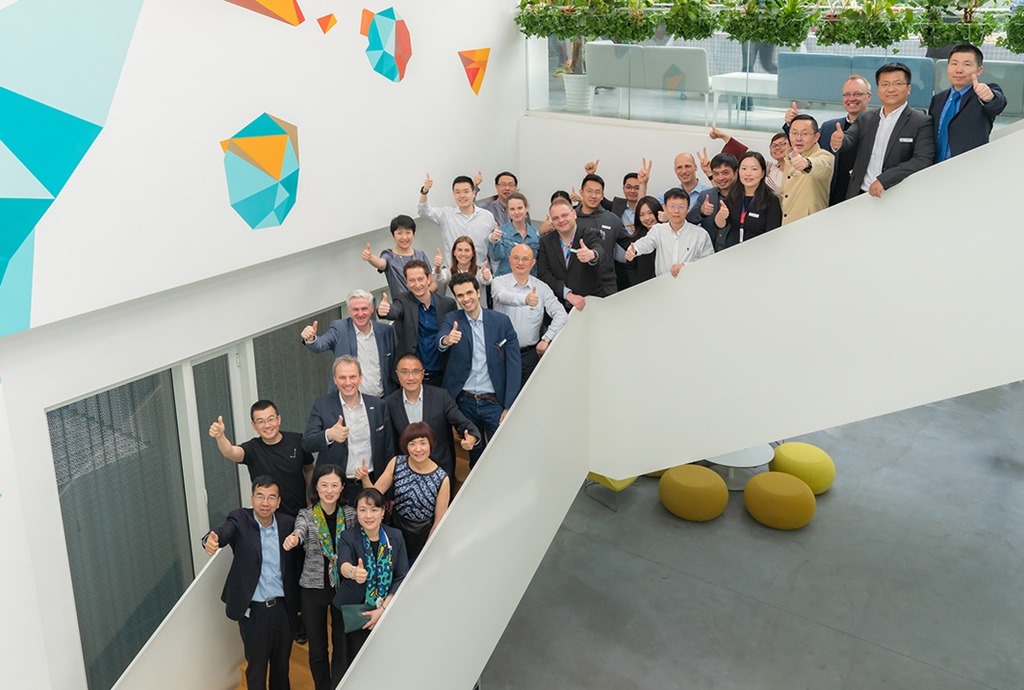 Text:
Focus on Best Practice takes an in-depth look at the bright ideas from science parks and areas of innovation which were shortlisted in the 2019 Inspiring Solutions programme, and this month we feature the Shanghai Connectory "Four-get" Co-incubation Programme, jointly run by Caohejing Hi Tech Park (China) and Bosch.
Based in Shanghai, the "Four-get" Shanghai Connectory is an IoT focused co-creation space in the heart of Shanghai, jointly operated by Shanghai Caohejing Innovation Centre and Robert Bosch GmbH. The first Connectory space in Asia-Pacific, it is one of five global Connectory innovation spaces and has the mission of incubating IoT startups across the region.
With its "four-get" name emphasising the importance of entrepreneurs getting out of the buildings, getting their hands dirty, getting wings for success and getting things done, the Connectory brings together startups, corporate & university partners, and Bosch project teams focused on digital innovation in smart home, smart city, and industry 4.0 technologies.
The idea of creating a space for the IoT players was developed by experienced managers from Bosch and CHJ, who jointly select high-potential startups. The Shanghai Connectory has become the central hub for the local IoT ecosystem, an active catalyst for innovation and a dedicated source of expertise. It offers startups greater opportunities for collaboration and knowledge-sharing than possible for small businesses alone, while improving open innovation competitiveness for Bosch.
Working out of CHJ's landmark co-working space, a tech-based community manager helps startups test ideas and understand patterns: they can also access IoT industry resources from Bosch, as well as connect and co-create with Bosch innovation teams.
CHJ and Bosch support startups to develop a range of smart products and help identify ways to bring them to market more quickly through open procurement. Seminars and workshops hosted by CHJ bring together Fortune 500 corporates with startups, help teams keep their survival rate up to 90%, get subsidies from the Chinese policy chain, and provide the opportunity to meet with venture capital funds. They also offer free services such as talent recruitment, equity structure optimization, and legal consultancy, while urban mobility professionals from Bosch provide technical expertise, guidance and mentoring.
There are currently 15 startups at the Shanghai Connectory, including recent arrival is Mooma Tech, whose CEO is a former Bosch employee. Using advanced robot integration technology, they create customized industrial robot solutions for customers in different sectors in the Chinese market.
Another success story is DTbird, champion of Demo Day in Caohejing 2018 Carnival, who recently secured angel funding from Ameba Capital (a top 10 early stage fund in China). Last week, their product DTSales, an AI based customer acquisition and automated sales service platform, was placed in the top three out of 3000 competitors in Create @Alibaba Cloud Starup Contest. Alibaba awarded them RMB 300,000 and a global final qualification.
To find out more about the Shanghai Connectory "Four-get" Co-incubation Programme and some of their startups, please visit www.shanghaiconnectory.com/en.