Title:
Helping startups go global at STP Belgrade
First image: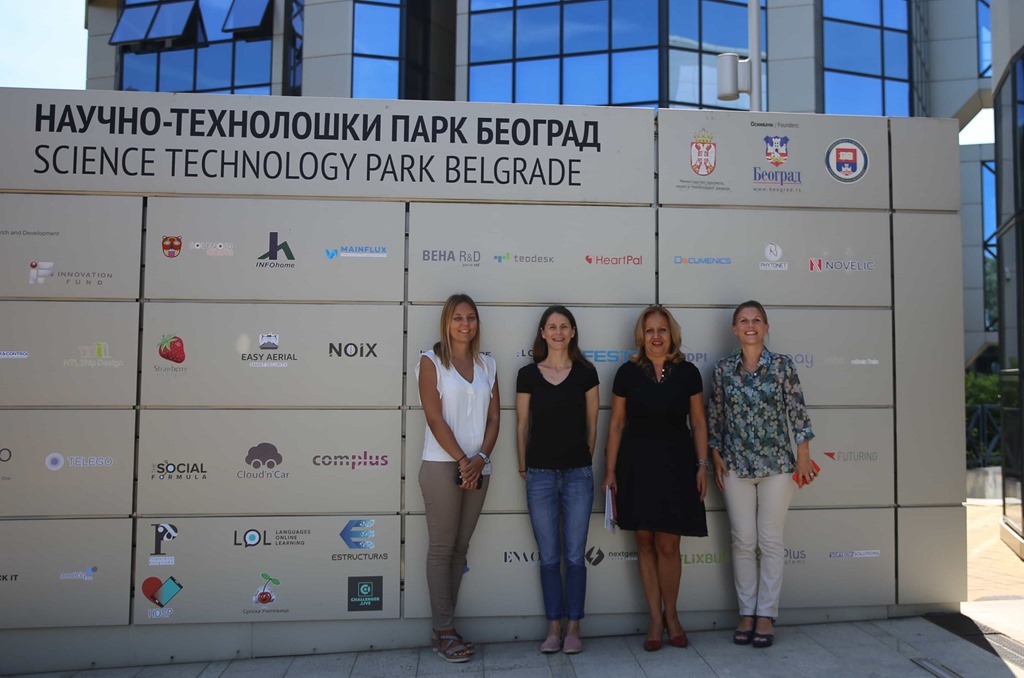 Text:
The Serbian startup ecosystem is at the heart of Science Technology Park Belgrade, and IASP Chief Operations Officer Ebba Lund travelled to Serbia on August 29th to learn more about how they are supporting entrepreneurs and new companies and fostering a local culture of innovation.
After a meeting with Director Gordana Danilovic Grković, Business Support Coordinator Jelena Petrović, and Cooperation Associate Marija Mirković, Ebba went on a technical tour of the park to explore how the team supports the young companies based there. Many are students and graduates from Belgrade University who take advantage of the business development services on offer as well as the 3D Innovation Lab & Makers Space.
The park is home to startups and growing high-tech companies, both local SMEs and R&D departments of international companies, with a focus on the IT, IoT, Smart Cities, Med-tech, Agrifood and Energy sectors. It already accommodates 70 companies employing around 700 people and generating an annual income of 20 million Euros.

With international funding support from the Swiss government, STP Belgrade places particular emphasis on helping Serbian startups to export their products and services to foreign markets, and has built up a network of partners across Europe to support them as they expand. It is also home to a Business & Technology Incubator of Technical Faculties that runs startup support programmes, and an Innovation Fund that provides financial instruments to growing companies.
Recent success stories at the park include Desing R&D, a food tech company that is already participating in European project Aquavalens; Strawberry Energy, an award-winning SME working in smart city technologies such as the solar-powered smart bench network it is implementing in London (and one in front of the park - see photo below), and NovelIC, an electronics and embedded systems company that already holds 10 patent applications, two Innovation Fund grants and is part of the GLAM Horizon 2020 project consortium.
Director Gordana Danilovic Grković commented: "We established and developed STP Belgrade relying on the experience and best practices of developed countries, and the biggest challenge was how to adapt it to local conditions and activate Serbia's great potential for innovation. In 4 years of operation, we have worked with more than 100 STP tenant companies and teams, organized great number of events, provided training for over 1000 young people, and hosted over 10,000 visitors. Now we have an organization capable of generating more innovations, startups, employment and exports each year. We have proved that in countries that are transitioning, at the initial level of innovation ecosystem development, science and technology parks can have a huge impact and become a new pattern for the development of the country."

Visit https://ntpark.rs/en/ to find out more about STP Belgrade.