Title:
Meet the latest innovation projects to join IASP
First image: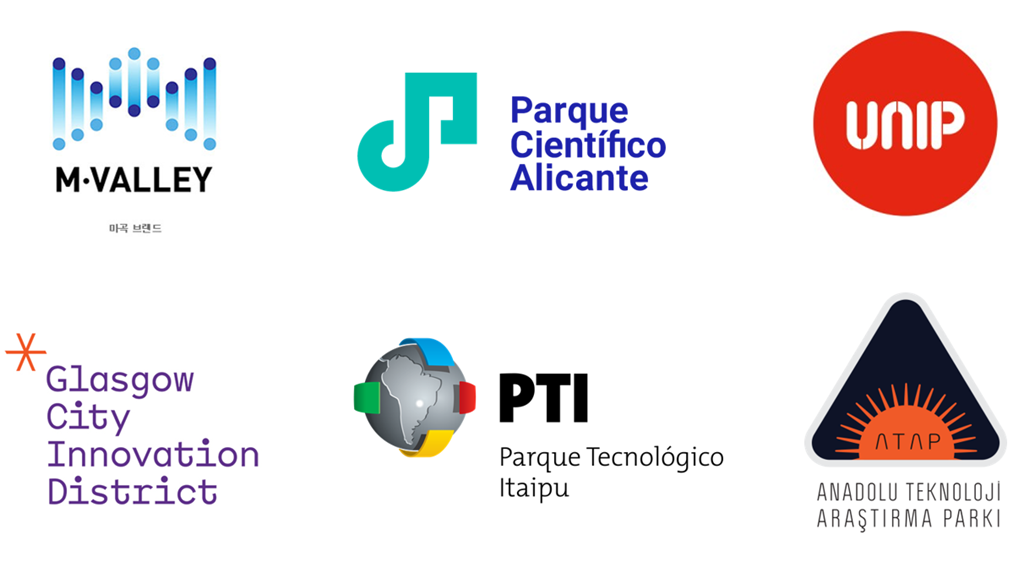 Text:
Over the last two months we've been delighted to welcome a wave of new members to our association. You might have met some of them in person at IASP Seville, but the hustle and bustle of a conference doesn't always give the time to get to know the essentials of each project, so read on for an overview of our new full members from around the world!
Itaipu-Brasil Technological Park, Brazil
Headquartered in Foz do Iguaçu, close to the Iguaçu Falls, the Itaipu-Brasil Technological Park (PTI-BR) is an innovation ecosystem with educational institutions, companies and government agencies that promotes synergy and knowledge exchange. It was founded in 2003 from the expansion of the mission of the joint Brazil-Paraguay hydroelectric plant Itaipu Binacional, its sponsor, which works to generate quality electricity in a socially and environmentally responsible way.
University of Nottingham Innovation Park (UNIP), UK
Founded in 2008, UNIP is home to 87 businesses, employing over 900 people where its access to University of Nottingham facilities and expertise is a major advantage for companies. UNIP encourages external, student and academic entrepreneurs to mix and grow their businesses alongside each other with initiatives like the Ingenuity Lab, that welcomes both commercial ventures and social enterprises, and it also runs the Ingenuity Programme, which connects leading universities, corporates and public and third-sector organisations to support the creation of investment-ready ventures.
Guamá Science and Technology Park, Brazil
The first technology park to operate in Brazil's Amazon region, its mission is to encourage applied research, innovative entrepreneurship, service provision and technology transfer. In line with the market needs of Pará State, the park's focus areas are Biotechnology; ICT; Energy; Environmental Technology and Mineral Technology. As well as a business incubator, Guamá STP offers a co-working space and specialised laboratories dedicated to research into the Amazon's bioactive compounds, biological engineering, sensors and embedded systems and specialising in agroindustry.
Parque Cientifico de Alicante, Spain
Located next to the University of Alicante campus, it was founded by the university in 2010 and currently has around 30 companies, the majority related to biotechnology and IT. The park stimulates the flow of knowledge and technology between the university, research institutions, companies and the market, and promotes the creation and growth of innovative companies. Value-added services include access to public and private funding, university services, training and mentoring, and talent management with assistance recruiting the qualified staff companies need.
Glasgow City Innovation District, UK
A hub for entrepreneurship, innovation, and collaboration that builds on Scotland's rich tradition of scientific excellence and industrial collaboration, it is considered one of the country's first areas of innovation. Located in the heart of Glasgow city centre, the District is home to many innovative companies and organisations who've located there to nurture and accelerate growth, improve productivity, and access world-class research and technology from the University of Strathcylde.
Anadolu Teknology Arastirma Park (ATAP), Turkey
Established in 1991 on the Anadolu University Yunus Emre Campus, with World Bank Funds, ATAP is at the heart of the Eskişehir Technology Development Zone. Home to 126 companies employing over 1000 people, the park is spread over 4 campuses and 9 buildings. Its mission is to produce technological knowledge to increase the international competitiveness of Turkish industry, commercialise tech know-how and support technology-intensive production and entrepreneurship. It also helps SMEs to adapt to new and advanced technologies, and to create investment opportunities in technology-intensive areas.
Magok Industry Complex Management Department (South Korea)
Based around the Magok District, the only large-scale new development site remaining in Seoul, it is being developed as a self-sufficient smart city with an R&D cluster, residential areas, business and commercial complexes, and parks. A space where large corporations and SMEs coexist, the district fosters creativity in an environment which combines nature and industry. As a green model city where eco-friendly and renewable energy technologies are developed, it is pedestrian and bicycle friendly, with a large central park, eco-friendly housing and ecological wetlands, the Seoul Botanical Gardens, the LG Art Centre, which offers contemporary performances and a variety of science-related experience spaces, and the Kolon Art Museum.