Title:
New managing director as M-SParc opens for business
First image: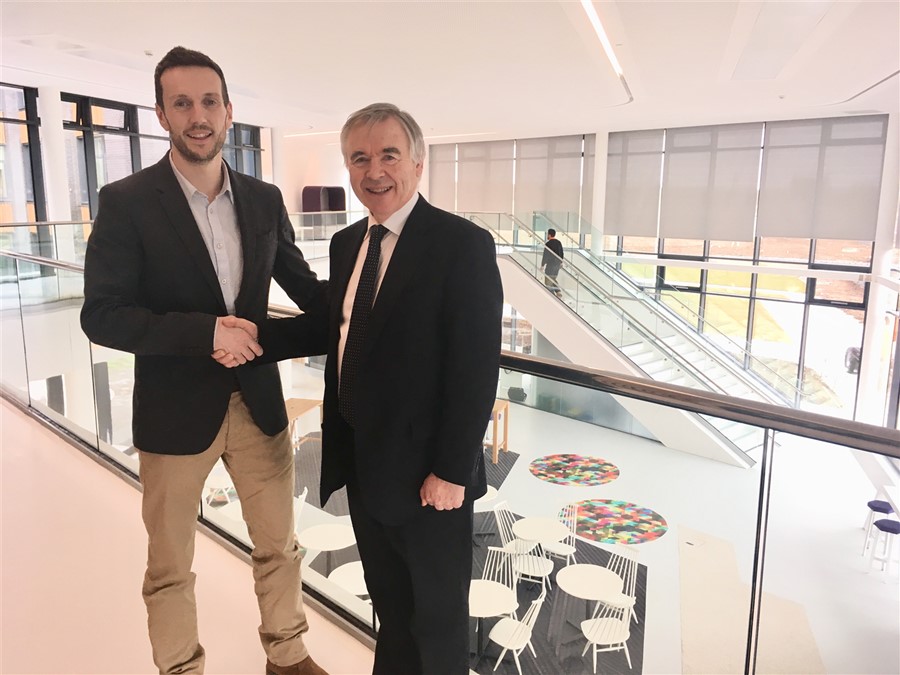 Text:
After opening on time and within budget, Wales' first dedicated science park M-SParc (UK) also has a new Managing Director.
Pryderi ap Rhisiart, previously Project Manager during M-SParc's construction phase, takes over from outgoing Managing Director Ieuan Wyn Jones who announced his retirement last year.
Mr. ap Rhisiart, of Pen Llyn, played a key role in bringing the £20m M-SParc project to completion within the time and budget constraints, and has worked closely with Mr. Jones to ensure a seamless handover.
Mr. Jones said: "I was very pleased to hear that Pryderi has been appointed. He has been part of the team for over 4 years, and having this continuity is very important for the project. Pryderi's appointment opens a new and exciting chapter for M-SParc. He has shown commitment to the project from day one, and his passion for our ethos of stimulating the region's economy means he is always ready to go above and beyond in his role. I look forward to seeing the Park develop, and will be staying on the board of directors, and will complete a few outstanding projects."
Mr. ap Rhisiart said: "The completion of this building is just the beginning of what we set out to achieve, and I very much look forward to making this facility deliver for the region now in terms of high quality jobs and economic growth."
"It's crucial that we ensure that this facility provides an opportunity for the young people of the region to be able to stay here and work, should they want to do so," he added.
M-SParc aims to stimulate the region's economy, helping companies grow and providing employment. The new M-Sparc building boasts laboratory, office, and clean workshop space, created with input from companies of all sizes who work in the science and technology sectors with a focus on Low Carbon. Businesses and projects who develop their own technologies, processes and science based endeavours are welcome. "We want to attract the brightest and the best from the region," said Pryderi ap Rhisiart.
IASP is delighted to welcome Mr. ap Rhisiart to our network, and wishes Mr. Jones a happy retirement.